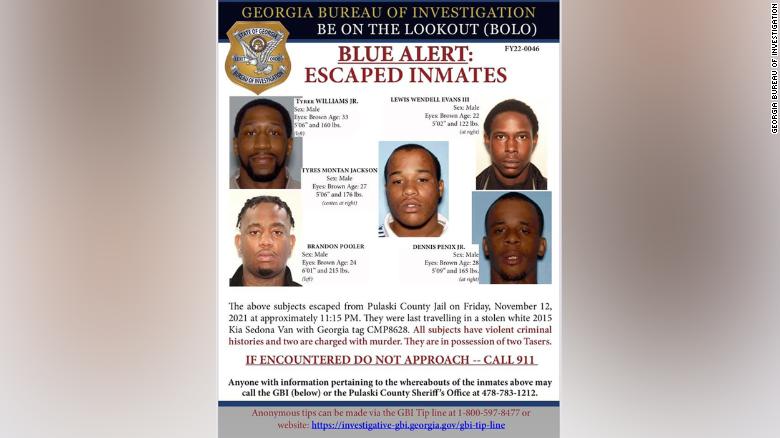 Cinco reclusos, incluidos dos acusados ​​de asesinato, escapó de una cárcel de Georgia del Sur el viernes por la noche y permanecen prófugos el domingo, según la Oficina de Investigación de Georgia (GBI).
The GBI issued a
Blue Alert
after the five escaped from the Pulaski County Jail shortly after
11 pm.
on Friday and stole a white
2015
KIA Sedona van from the parking lot
.
The van's Georgia license plate reads CMP8628
.
The inmates were identified as Tyree Williams Jr.
,
Dennis Penix Jr.
,
Brandon Pooler
,
Tyres Jackson and Lewis Evans III
,
according to the GBI
.
All five inmates have a history of violent crimes and are armed with two tasers
,
the GBI says
.
Two of the men are facing murder charges
,
officials add
.
Authorities are asking the public not to approach the individuals
.
Anyone who sees them should call
911,
the GBI said
.