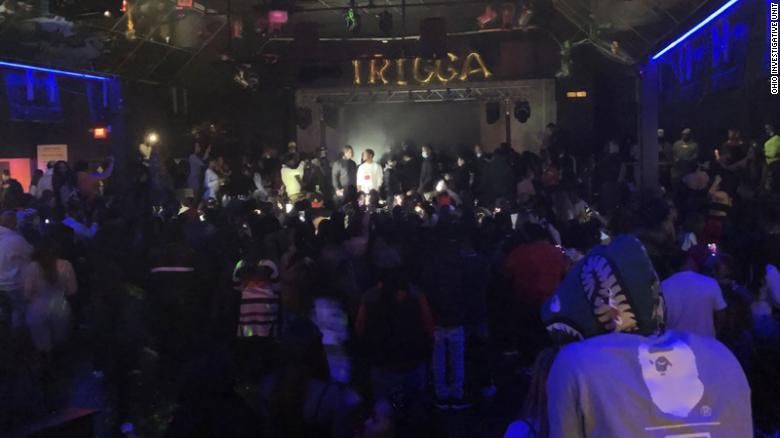 A nightclub in Columbus, Ohio, was temporarily shut down and is accused of public health violations because up to 500 people attended a concert headlined by R&B singer Trey Songz over the weekend, authorities said.
Plainclothes officers with the Ohio Investigative Unit (OIU), a division of Ohio's Department of Public Safety, went to Aftermath nightclub on Saturday and found large numbers of non-socially distanced and maskless people on the dance floor and stage area, according to a
statement released on Sunday by the agency
.
The officers observed patrons "standing, walking freely and sharing alcoholic beverages directly from the same bottle as they were passed between groups," the statement reads.
Images taken by the officers show club patrons apparently congregating with no attempts to maintain social distancing and no physical barriers in place. Most patrons and employees at the club were not wearing facial coverings, OIU's reported.
CNN's is trying to reach Aftermath nightclub, the operators of Saturday's event and Trey Songz for comment.
"When I saw the pictures, I thought for sure it was from 2019, there's no way they're hosting a concert like that right now," Columbus City Attorney Zach Klein told CNN.
Klein's office filed a nuisance orders lawsuit alleging the venue and the establishment's operators violated multiple public health codes and defied Ohio's State of Emergency Orders put in place in light of COVID-19.
"We're not interested in being the 'gotcha' police," Klein said, "we'd rather educate where we're able to."
He says what he saw this weekend was utter disregard for the health and safety of the patrons who were at Aftermath and for their friends and family and possibly others.
On Tuesday, the Ohio Department of Health reported 25,721 new cases, bringing the total number of positive cases in the state to 510,018.
While Tuesday's positive caseload was higher than normal, health officials said this was due to a backlog of tests that accounted for 13,000 positive cases. The state is still seeing an upward trend in positivity rates across several counties.
Police across the nation have been cracking down on venues hosting large gatherings and underground parties disregarding the restrictions in place to curb the spread of the virus.