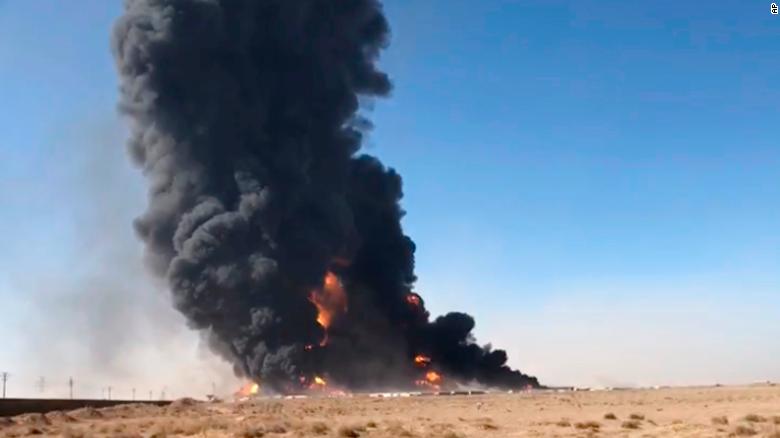 Più di 500 i veicoli hanno preso fuoco al confine tra Afghanistan e Iran sabato pomeriggio dopo che un camion di carburante è esploso lì, provincial officials told Afghanistan's TOLO News.
The blaze took place at the customs office in Islam Qala
,
in Afghanistan's western province of Herat
.
Photos from the scene show tall flames and plumes of thick black smoke
,
visible even from a distance
.
Almeno 17
people were injured and taken to the Islam Qala clinic and Herat Regional Hospital
,
according to Mohammad Rafiq Sherzai
,
spokesman for the Herat public health department
.
No further information is available yet on casualties
.
"
Everyone was terrified
.
They were escaping
.
Cars were stuck
,"
eyewitness Khalil Ahmad told TOLO News
.
Herat Gov
.
Waheed Qatali said officials had sought help from Iran
,
as the Afghan side lacked the resources to put out the huge blaze
.
Iran will dispatch relief and rescue teams to the region to assist in the emergency response efforts
,
as requested by Herat officials
,
according to the Iranian state-run IRNA news agency
.
Iranian state-run Press TV reported that the damage was on the Afghan side of the border and did not affect Iranian customs
.
"
Up to now there has been no report about damage on Dogharoon border terminal
,"
said Omid Jahankhah
,
supervisor of customs offices in Iran's Razavi Khorasan province
,
according to Press TV
.
According to Press TV
,
Iran is a major supplier of goods to Afghanistan and that the terminals are often packed with fuel tankers
.