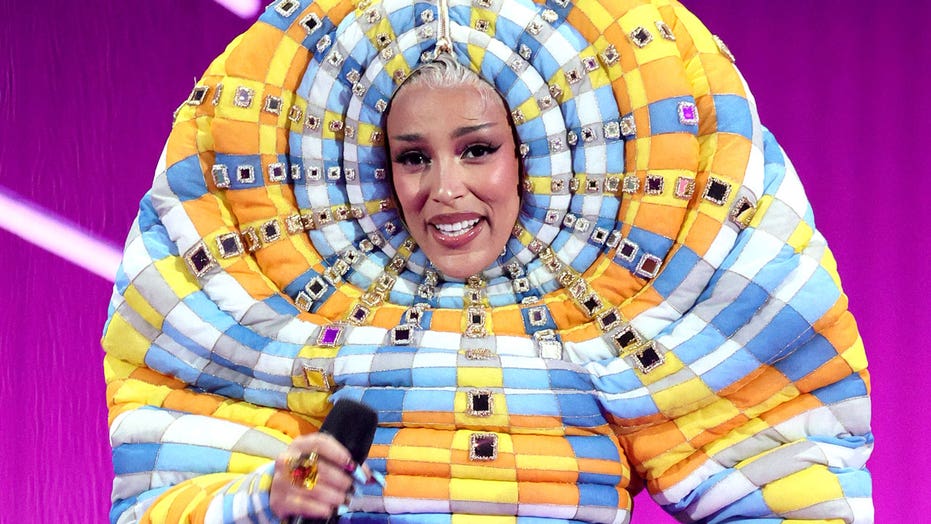 However, the number of outfit changes isn't what had people talking. The 25-year-old musician started off the night in an outfit designed by Andreas Kronthaler for Vivienne Westwood.
Things quickly escalated as she donned a worm-looking costume, a dress while wearing a chair on her head and an interesting pair of shoes to end the night.
DOJA CAT
The star wore a number of conversation-sparking pieces; a worm dress, a Vivienne Westwood chair accessory and claw shoes designed by AVAVAV.
While Doja Cat looked comfortable in her looks, her stylist revealed she almost didn't go through with the worm look, designed by Thom Brown.
"Well, it's funny 'cause [Doja] at first was like, 'I'm obsessed with this. I want to wear it.' And then the day before the show, she got a little nervous and she was like, 'I don't know if it's right,'" Brett Alan Nelson told Entertainment Tonight. "And then we got to show day and I was like, 'We have to do this look.' And she's like, 'I know, it's perfect.' And this is another one of those looks like the chair hat. Like Thom Browne is another designer that can do such beautiful art as clothing."