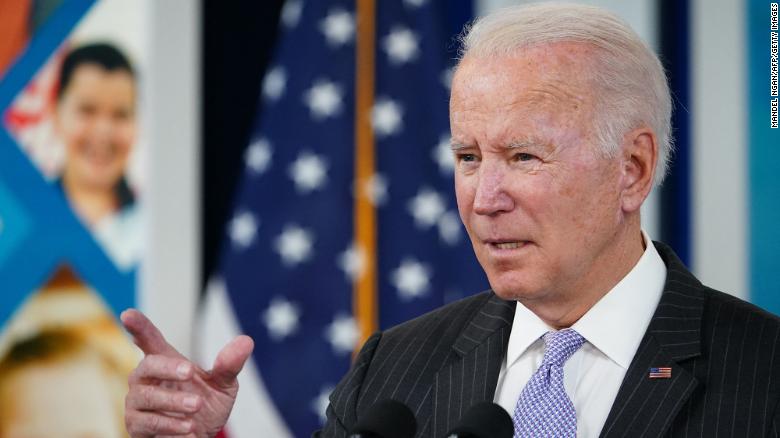 Tuesday was almost certainly the worst day of Joe Biden's presidency.  
Dragged down by the President's low-40s approval ratings, Democrats lost the governorship of Virginia — a state Biden had won a year before by 10 points — and very nearly saw heavily favored New Jersey Gov. Phil Murphy (D) toppled as well.
And in between? The still-uncertain fate of the President's two major domestic policy priorities: a $ 1 trillion "hard" infrastructure bill that's already passed the Senate and is waiting for House approval, and a broader $ 1.75 trillion bill social safety net measure, which, even if passed by the House, is likely headed toward a significant Senate overhaul.
The yo-yoing nature of Biden's week speaks to the reality of the modern presidency — buffeted by external events over which you have very little actual control.
Take the jobs market. Most economists attributed the over-performing of expectations to the steady decline in Covid-19 cases over the past month. But as the New York Times'
David Leonhardt has so expertly documented
, no one — not Biden nor any epidemiologist out there — knows why these Covid outbreaks tend to follow a two-month boom/bust cycle.
What's also difficult to know is whether Biden's Tuesday or Friday matters more.
To hear Republicans —
and even some Democrats
— tell it, the results in Virginia and New Jersey (and Long Island and Buffalo and Minneapolis) are rightly read as voters rejecting the massive social programs (and spending) that have been the hallmark of Biden's first 10 months in office.
Spanberger was something of an exception to the rule in her party, however. Most Democrats insisted that the problems exposed by Tuesday's losses were that voters were fed up with inaction on bills that their party had done a poor job of selling to the public. 
"What I heard loud and clear — and I was walking around with candidates all weekend — was that people want us to act," New Jersey Democratic Rep. Josh Gottheimer, a high-profile moderate,
told The New York Times
. "They want us to get things done for them."
Under that line of thinking, passing Biden's agenda — and the resultant economic upturn that many Democrats predict — will fix what ails the party. That belief was buoyed by Friday's positive jobs numbers.
We won't know which side — was Tuesday the defining day of Biden's presidency or was Friday? — prevails anytime soon. In fact, we may not know until the November 2022 election.
The Point: Both parties see this week as a pivotal — and positive — one for their political futures. Only one side will be right.