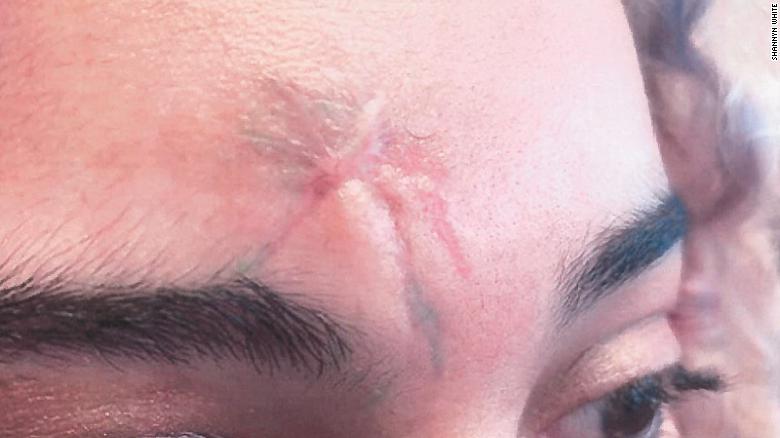 A 24-year-old woman is suing the city of Louisville, Kentucky, and two of its police officers after allegedly getting shot in the face with a rubber bullet while peacefully protesting in May.
Shannyn White was out on May
29,
protesting the killings of Black Americans
,
such as George Floyd and Breonna Taylor
,
at the hands of police
, secondo la causa,
which was filed Monday
.
The officers in the lawsuit are not named
.
The Louisville Metro Police Department declined to comment on the lawsuit and its allegations
.
The lawsuit says White was standing unarmed with about
20
other people while videotaping the protesters
'
chants on her cell phone when
"ad un tratto,
with no warning and for no legitimate reason
,"
Louisville officers fired projectiles at the group
.
The lawsuit says White was shot in the face
.
One of the unnamed officers in the suit is being sued for allegedly shooting White
,
and the other for purportedly giving the order to shoot
.
White dropped to her knees
,
unable to see
,
and other protesters attempted to stop the bleeding from
"
a large wound to her head
,"
the suit says
.
No LMPD officers approached to help White with her injuries or to call emergency services
,
the suit alleges
.
Secondo la causa,
other protesters helped White get to a nearby hospital where she was treated for her injury
.
She experienced dizziness and had
"
issues with her vision
"
for two days after the incident and has a large scar on her forehead
,
photographic exhibits included with the lawsuit show
.
"
The Defendants
'
actions were carried out in such a manner and with such a significant amount of unnecessary actions that they shock the conscience
,
and unreasonably restrained Ms
.
White of her freedom
," dice la causa.
White claims her First
,
Fourth and 15th Amendment rights were violated and is suing for damages in
"
excess of
$ 15,000," secondo la causa.