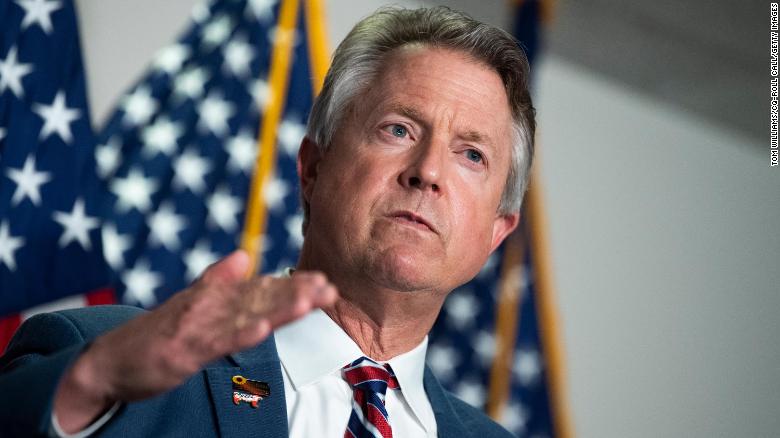 On January 6, Roger Marshall was one of eight Republican senators to vote against the Electoral College counts in Arizona and Pennsylvania, despite zero evidence that any actual fraud or wrongdoing had been committed in either state.
With the benefit of several months of hindsight — and still no proof (or anything close) that the 2020 election was stolen or biased — CNN's Pamela Brown asked the Kansas Republican whether he had any "regrets about your actions and any concern that they contributed to misinformation about the election?"
To which Marshall responded this way:
"Look, Pamela, we're just so ready to move on. I made a decision based upon the facts that I knew at that point in time. I was concerned then and I still am today that six states broke their own laws or their own constitution, but it's time to move on. It's time for this country to heal. It's time for a spirit of forgiveness to be happening. It's time for this country to work together and focus on the goals that we can solve together.
"We've got plenty of challenges right now we're making great progress coming out of this COVID virus. The economies bounce back, it's time to move on."
Ah, the old let's-leave-the-past-in-the-past move! I see that and I counter with this William Faulkner quote: "The past is never dead. It's not even past." (And make sure to read
this wild story
about using that quote — and how it might get you sued!)
See, no matter how much Marshall wants to put that vote to undermine a fair election in the rear view mirror, it's very clear that neither the man on the losing end of that election nor the supporters that comprise the GOP base are ready to move on.
"The Fraudulent Presidential Election of 2020 will be, from this day forth, known as THE BIG LIE!," former President Donald Trump said in a statement released Monday morning, the latest in a series of similar remarks — many focused on the
laughable "recount" of votes happening in Arizona
— aimed at continuing to undermine the 2020 election.
And the Republican base has followed right along. In a
CNN poll conducted in late April
, 70% of Republicans said they did not believe that "Joe Biden legitimately won enough votes to win the presidency." Seven in 10 Republicans said that. Less than a quarter (23%) said Biden won fair and square.
So, 70% of Republicans believe the Big Lie. And not just believe it, but are willing to punish anyone in the party who tells the truth!
Utah Sen. Mitt Romney, the 2012 Republican presidential nominee, was booed at a gathering of state party regulars over the weekend because he voted to impeach Trump for the former President's role in the January 6 riot at the US Capitol.
Wyoming Rep. Liz Cheney, a conservative on everything but supporting Trump's continued push to question the 2020 election, could wind up ousted from her role as the third ranking Republican in House leadership. Cheney, unbowed in the face of rising opposition to her,
said this Monday
following Trump's statement: "The 2020 presidential election was not stolen. Anyone who claims it was is spreading THE BIG LIE, turning their back on the rule of law, and poisoning our democratic system."
So, no, Sen. Marshall, we can't just "move on" from the January 6 riots and the votes taken that day to undermine a free and fair election. Because what happened that day — including the votes that Marshall and almost 150 of his Republican colleagues in the House and Senate cast — continues to reverberate across American politics.
Denying the election results has become de rigeur for Republicans who want to stay on the right side of the former President and his loyal base.
Which means what happened on January 6 is still very much with us. Thanks, in part, to the likes of Marshall, who just wants to "move on."