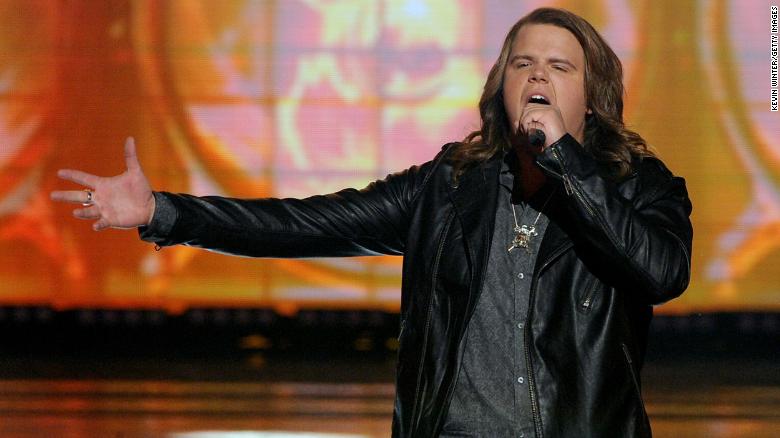 The first song "American Idol" season 13 champion Caleb Johnson released after winning the competition was the classic rock homage "As Long As You Love Me." But he couldn't stand singing it.
In an interview with
Insider
tied to the 20th anniversary of the reality competition series, Johnson criticized his debut single, calling it a "cheesy piece of crap."
"Idol" finalists often perform new, previously unrecorded songs in the show's final weeks. The winners will often release the original song after the series concludes, including hits like
Kelly Clarkson's
"A Moment Like This" and
Phillip Phillips'
"Home."
But Johnson's single didn't achieve the same success as those songs. He said he argued with producers to change the song, knowing that the season's winner would have to sing it on the final episode and eventually record it.
"If you won, you had to sing the song, and the song was just utter crap," Johnson told Insider. "Like, it was just the worst song ever."
Johnson went on to record the song as his "winner's single," though he told Insider that it was near-identical to a 2012 song that a finalist from the South African version of the show had released.
Johnson, a Asheville, North Carolina native, competed on the show's 13th season, which aired in 2014. With renditions of "Sympathy for the Devil" and "The Edge of Glory," he emerged that season as a unique rock vocalist. He's gone on to release two albums, most recently in 2019, with "Born From Southern Ground."
"American Idol" has produced several notable winners over its last 20 years, including Clarkson, Carrie Underwood and Fantasia Barrino, among others. Contestants who didn't win but went on to find mainstream fame include Jennifer Hudson, Adam Lambert and Katherine McPhee.