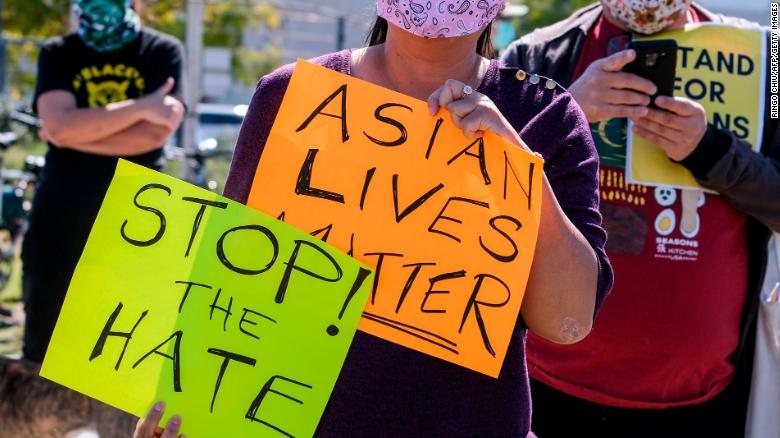 Jeanine Celeste Pang es directora creativa senior de voz de marca en Old Navy, a Gap Inc. marca. La compañía anunció recientemente un $ 100,000 donation to Stop AAPI Hate and the National Coalition for Asian Pacific American Community Development. Las opiniones expresadas en este comentario son suyas..
As the head of voice for one of the most iconic brands in America, Old Navy, I know a thing or two about a strong delivery, and saying things with confidence and personality. But as anti-Asian hate has reached a fever pitch over the past year, I've been questioning the one voice I should know best: my own.
Growing up as a first-generation American-born Chinese
,
I had two separate identities
:
the Asian me with my family
,
and the American me with everyone else
.
At home
,
I spoke Mandarin and ate preserved duck egg
. En la escuela,
I spoke English and ate tater tots
.
My parents named me
"
Chun-Yi
,"
which means infinite joy
,
but I gave myself the middle name
"
Celeste
,"
after Steve Sanders
'
girlfriend on
"
Beverly Hills 90210.
"
On weekends
,
I binged Chinese soap operas
;
on weeknights
,
I cheered at football games
.
Before college
,
I traveled to Beijing and Shanghai
;
when I came back
,
I joined a sorority and dated boys who drove pickup trucks and listened to Led Zeppelin
.
When you don't see another person like you on TV or in the pages of a magazine
,
it's easy to develop an inferiority complex
.
No one talked about what it was like to have immigrant parents
.
There was no one-sheet of pithy comebacks to your everyday microaggressions like
, "
But where are you really from
?" o, "
You speak English so well
!" o, "
Your lunch is funk
!"
Over time
,
you shrink the parts of self that feel other
.
I got so good at minimizing my Asian side that when classmates switched from calling me
"
Ping-Pong Pang
" a "
Twinkie
"
— yellow on the outside
,
White on the inside — I felt relief
,
and that I would make it
, después de todo.
I was now named after a high-calorie snack cake — what was more American than that
?
It was convenient to dismiss racial slights
,
to keep my head down and not ruffle feathers if it meant I could ignore what was happening
.
But recently I felt something inside of me clawing to get out and get loud
.
Last spring
,
in the safety of our bubbles
,
my Asian friends and I started to ask questions
:
Why is
COVID-19
being called the
"
China virus
" y el "
kung flu
"?
What is going on with the uptick of blatant racism being hurled at our communities
?
Why have our parents become so afraid of strangers
'
accusatory glances that they've stopped going to their local gym and grocery store
?
Between March and October of last year
, más que 2,800
reports of
anti-Asian hate
were logged on StopAAPIhate.org
,
a website that tracks and responds to incidents of hate and violence against Asian Americans and Pacific Islanders in the United States
.
What's worse
,
it's frequently our elderly and grandparents who are under attack
.
But we don't have to suffer in silence
.
Just in the past few weeks
,
there's been more awareness around anti-Asian racism because we've been getting louder
.
Celebrities
, incluso
Daniel Dae Kim
y
Daniel Wu
and activists like
Amanda Nguyen
are using their megaphones
,
while Asian-American media such as
NextShark
are reporting on these crimes and tribulations daily
.
I view this moment as an incredible inflection point
,
and we need to keep the momentum going
.
We need to come together and own our collective strength
.
The business community also has an important role to play in building on this momentum
.
Since March
,
a staggering
38% de
hate incidents
toward the Asian American Pacific Islander
(
AAPI
)
community have taken place at businesses
.
Brands should do more than upload a generic
"
we stand in solidarity
"
post to their social media accounts — this feels like performative messaging at a time when we need real
,
lasting change
.
Invest in organizations that advocate for Asian Americans
.
Take measurable actions to boost Asian representation across ranks
,
and provide clear paths to opportunities and promotions
.
Train employees on racial bias and the vast differences between races — we are not a monolith
.
Create safe spaces for employees to unpack their feelings
,
and take a few minutes to ask your Asian colleagues
, "
How are you doing in all this
?"
To my AAPI brothers and sisters
:
Your voice is powerful
.
Use it
.
Start a dialogue with a non-Asian
,
because no one's going to fight our fight for us
.
Speak your truth
.
Talk about what it's like to be you
,
especially the parts that are hidden from view
.
Share a photo of your family
,
your grandparents
.
Report on the injustices you've witnessed or see in real time
,
and hold people accountable
.
When I gave birth to bi-racial twins almost one year ago
,
something instinctual happened
:
I sang to them in Chinese
,
I fed them congee
,
I celebrated Lunar New Year by parading them around our neighborhood in red and gold garb
. pensé,
if I can't learn to be proud of all the parts of me
,
how could they
?
I now talk openly about the very things I had tried to brush off for most of my life
.
I've had direct conversations with leaders at my own company to bring the issue of microaggressions to light and how we can better advocate for AAPI employees
.
On social media
,
I've started to call out influencers in the fashion industry for cultural appropriation and offenses against the Asian community — most recently
,
when I spotted a designer celebrating a T-shirt that featured a racist caricature
.
It's time to stop politely waiting our turn to speak
.
As a culture that values filial piety
,
the deep respect and care for elderly
,
we must protect them
.
As a culture that nurtures the next generation
,
we must give them a better future
.
And we need to do it in solidarity
.
Because when other people hear our stories
,
we no longer become invisible
.
We start to take up space and
, en turno,
reshape our place in the world
.