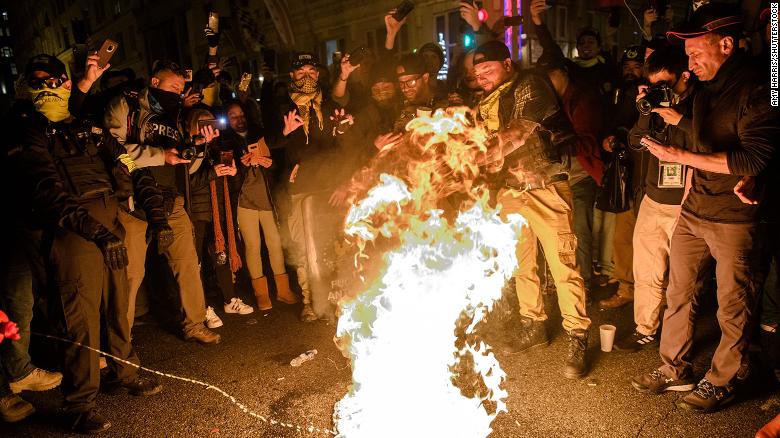 Kristen Clarke is president and executive director of the Lawyers' Committee for Civil Rights Under Law, home to the James Byrd, Jr. Center to Stop Hate which works to confront racially motivated acts of hate across the country. She can be followed @KristenClarkeJD. The views expressed in this commentary belong to the author. View more opinion at CNN.
Protesters attending a pro-Trump rally, including members of the far-right group the Proud Boys, prowled the streets of the nation's capital this past weekend. Some protesters, seeking to spread terror and hate, ripped "Black Lives Matters" signs off the fronts of two local churches and burned at least one in the street.
But these were not just any churches. They are historically Black churches — storied institutions that have served as safe havens and centers of strength and hope for generations of Black families in Washington, DC. These attacks are modern-day cross burnings, intended to stoke fear among Black people nationwide.
"The sport of mob violence and murder," he said, "is … a menace to the peace and security of the people of the whole country."
The country finds itself in a very fragile place right now. Years of policies and rhetoric that stoked racial hatred — including President Donald Trump's
call earlier this year
from a presidential debate stage for the Proud Boys to "stand back and stand by" — has reached a disturbing new level in the conspiracy-soaked weeks since President Trump lost the election.
The 1963 Birmingham church bombing that killed four young Black girls resonated so deeply with Americans, in part, because it echoed these earlier attacks on Black churches. The 2015 murders of nine parishioners at Emanuel AME Church in Charleston, South Carolina, by Dylann Roof drew from that same well of hateful history.
In the same 1894 speech from the pulpit of Metropolitan AME Church, Frederick Douglass warned about the "poison of anarchy" that rises from White supremacist mob violence. The resonance for today is stark.
"The contagion is spreading, extending, and over-leaping geographical lines," he said. "When the poison of anarchy is once in the air, like the pestilence that walketh in the darkness, the winds of heaven will take it up and favor its diffusion."
When the winds of heaven are aided in their diffusion by the outgoing president, we are in a uniquely dangerous and unprecedented moment. We must confront it head-on.