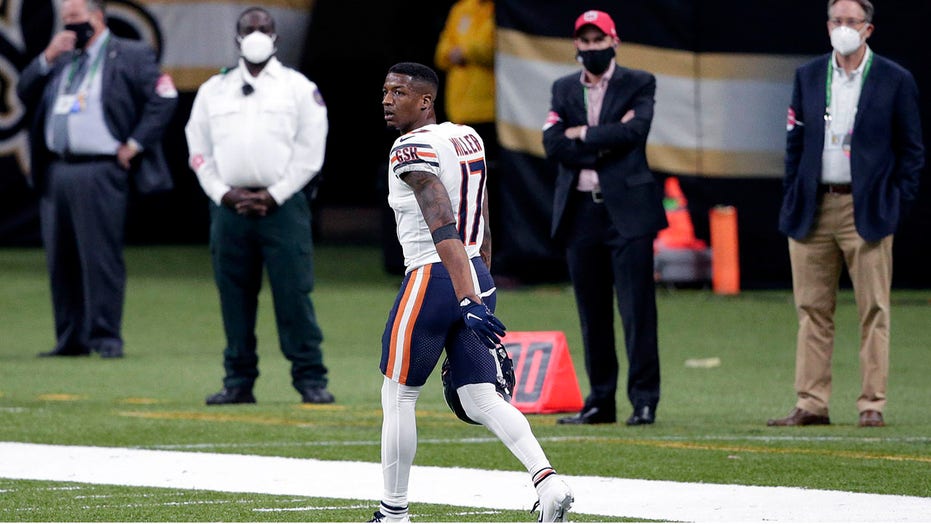 Chicago Bears wide receiver Anthony Miller was ejected from the team's NFC wild-card game against the 新奥尔良圣徒 在周日下午.
Saints defensive back C.J. Gardner-Johnson seemed to be talking trash to Miller after a third-down incompletion in the third quarter, and Miller retaliated by shoving Gardner-Johnson in the face.
During the Saints-Bears regular-season matchup 今年早些时候, Gardner-Johnson poked his finger inside Miller's facemask. The receiver got into it with Gardner-Johnson but things between the two players stayed relatively calm.
RAVENS RETURN FAVOR TO TITANS BY CELEBRATING, STOMPING ON LOGO DURING WILD-CARD VICTORY
然而, tensions then boiled over between the two teams when Bears wide receiver Javon Wims punched Gardner-Johnson in the helmet.
The two started a brawl and Saints cornerback Janoris Jenkins tried to break it up. Wims was the only player ejected in the melee.
星期日, both Miller and Gardner-Johnson got offsetting personal fouls for unsportsmanlike conduct and Miller got ejected. 加德纳·约翰逊, who is in his second year out of Florida, has developed a reputation for upsetting opposing offensive players.
The Saints held a 7-3 lead over the Bears at the time of the scuffle.