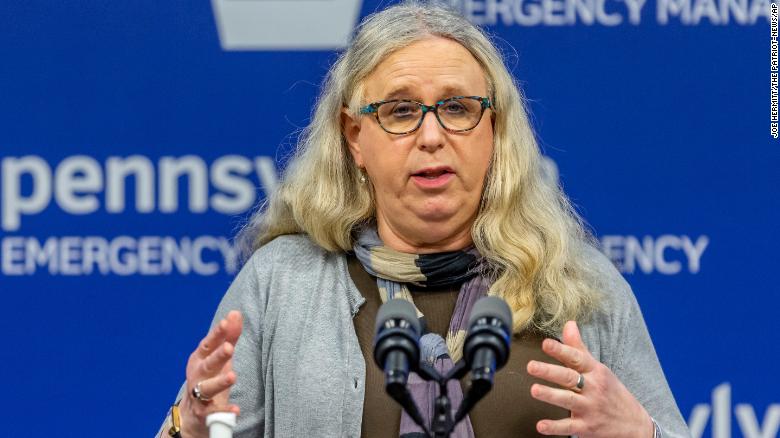 总统当选人拜登提名博士. 雷切尔·莱文(Rachel Levine)担任助理卫生部长, 她将把历史列为第一, transgender federal official to be confirmed by the United States Senate, according to a statement Tuesday.
Levine is currently the Pennsylvania health secretary and a pediatrics and psychiatry professor at Penn State College of Medicine
.
She served as the state's physician general in
2015
and assistant health secretary in
2017.
Levine was confirmed as the state's health secretary in
2018
under Democratic Gov
.
Tom Wolf's administration
.
Throughout her career
,
Levine has written about the opioid crisis
,
LGBTQ medicine
,
medicinal marijuana
,
eating disorders and adolescent medicine
.
She graduated from Harvard College and the Tulane University School of Medicine and completed her training in Pediatrics and Adolescent Medicine at the Mt
.
Sinai Medical Center in New York City
.
"博士.
Rachel Levine will bring the steady leadership and essential expertise we need to get people through this pandemic
—
no matter their zip code
, 种族, 宗教, 性取向, 性别认同,
or disability
—
and meet the public health needs of our country in this critical moment and beyond
," 拜登在声明中说. "她是一个历史悠久且颇有资历的选择,可以帮助领导我们政府的卫生工作。"
Vice President-elect Kamala Harris praised Levine as
"
a remarkable public servant with the knowledge and experience
"
to help contain the coronavirus pandemic and
"
protect and improve the health and well-being of the American people.
"
在十二月, 拜登
nominated
former South Bend
, 印第安那州,
Mayor Pete Buttigieg to be his transportation secretary
.
Buttigieg would be the first Senate-confirmed LGBTQ Cabinet secretary should his nomination make it through the chamber
.