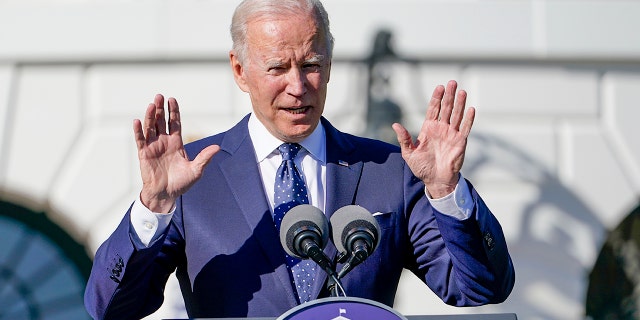 Biden detailed a potential deal for a spending proposal of between $ 1.75 trillion and $ 1.9 trillion during a private meeting on Tuesday, the Washington Post reported, citing sources familiar with the matter. The president was said to have shared the outline with at least some Democratic lawmakers.
The revised package includes many of the original plan's signature proposals, including universal pre-K, substantial investment in green energy and expanded Medicare benefits. However, the sources told Washington Post the details were still subject to change.
Rep. Pramila Jayapal, D-Wash., the chair of the Congressional Progressive Caucus, center, along with other lawmakers, talks with reporters outside the West Wing of the Washington, Tuesday, Oct. 19, 2021, following their meeting with President Joe Bid (AP Newsroom)
The Post reported the downsized spending plan could cut or reduce several programs favored by progressive leaders, including less money than they wanted for affordable public housing, a child tax credit extension of just one year, and reduced paid leave.
The latest spending benchmark indicates Biden and other Democratic leaders have made significant cuts to their vast spending plan to achieve a compromise that satisfies both moderate and progressive Democratic lawmakers. Democratic leaders have set an Oct. 31 deadline to reach an agreement on the spending plan and a separate $ 1.2 trillion bipartisan infrastructure deal. CLICK HERE FOR MORE ON OUR TOP STORY.
In other developments:
– Rand Paul: Democrats 'will squeeze' money out of ordinary people
– WaPo editorial board scolds progressives amid Dem spending battle: 'Stop demanding' a 'revolution' from Biden
– Kudlow: Manchin, Sinema 'make a lovely couple' fighting Democrats' spend and tax agenda
– NBC's Chuck Todd says 'burden' is on Biden, WH to resolve Dem infighting on spending: 'Take control of this!'
Terry McAuliffe abruptly ends interview, tells local Virginia reporter 'You should've asked better questions'
Democratic gubernatorial candidate Terry McAuliffe cut his interview short with a local Virginia TV station and scolded the reporter for not asking "better questions."