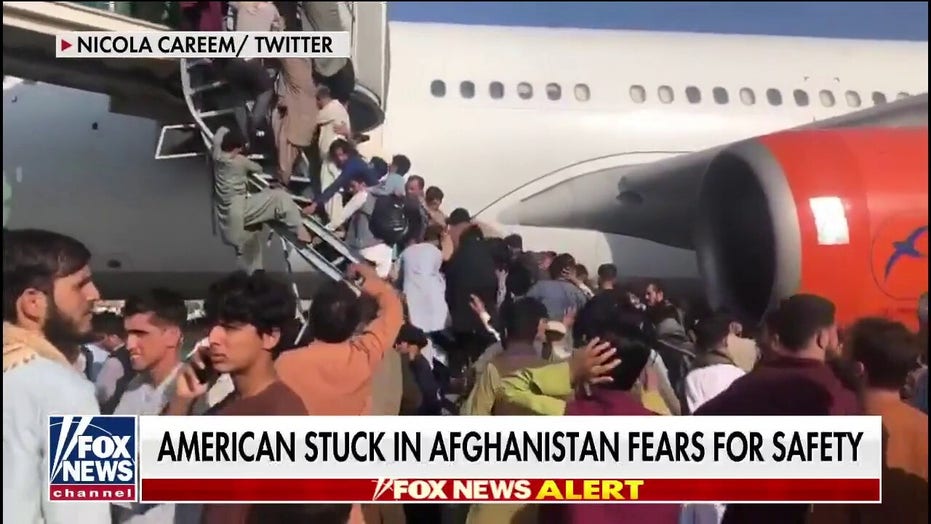 Biden further told ABC's George Stephanopoulos that intelligence did not indicate the Afghan government would quickly collapse – despite reports that's exactly what the intelligence said. 
And the president said his advisers did not tell him to delay the troop withdrawal, despite reports that's exactly what his advisers did. 
"Oh, there is," Biden said when asked about "pandemonium" near the airport by Stephanopoulos. "But, look – but no one's being killed right now, God forgive me if I'm wrong about that, but no one's being killed right now."
AMID AFGHANISTAN CHAOS, BIDEN ASKS FOR 'LEGAL ACTIONS' AGAINST GOVERNORS WHO BAN MASK MANDATES
Biden added: "People are – we got 1,000-somewhat, 1,200 out, yesterday, a couple thousand today. And it's increasing. We're gonna get those people out."
But just two days before the Wednesday interview, seven civilians died at the Kabul airport, including multiple individuals who were clinging onto an American jet as it departed, and then fell from the sky. 
Meanwhile, the Taliban has set up several checkpoints around the airport and according to sources who spoke to Fox News is arbitrarily beating and denying entry to people who are attempting to get to the airport. 
State Department alerts saying that people should go to the airport simultaneously warn: "THE UNITED STATES GOVERNMENT CANNOT ENSURE SAFE PASSAGE TO THE HAMID KARZAI INTERNATIONAL AIRPORT."
Nevertheless, Biden asserted to Stephanopoulos that the Taliban is providing "safe passage for Americans to get out."
Biden also more broadly defended his decision to leave Afghanistan, including by saying that none of his advisers told him it was a bad idea to leave the country.