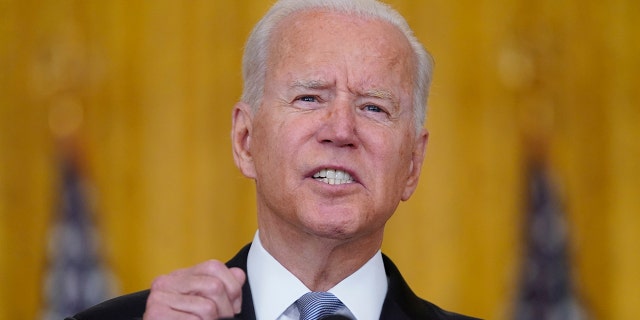 Biden on Monday suggested that the withdrawal debacle was the result of the peace deal he "inherited" from former President Donald Trump and claimed his only options were between "escalating the conflict and sending thousands of American troops back into Afghanistan."
"I stand squarely behind my decision. After 20 years, I learned the hard way that there was never a good time to withdraw U.S. forces," Biden said. "That's why we're still there."
Biden also pointed fingers at the Afghan army for lacking "the will to fight" for their future. And he said the slow-moving pace of evacuating the U.S.'s Afghan allies was in part because "some of the Afghans did not want to leave earlier — still hopeful for their country."
The comments contrast with then-candidate Biden's promise to do his "job and take responsibility" for his actions.
"It's hard to believe this has to be said, but unlike this president, I'll do my job and take responsibility," Biden wrote in June 2020. "I won't blame others. And I'll never forget that the job isn't about me — it's about you." CLICK HERE FOR MORE ON OUR TOP STORY.
In other developments:
– Biden promises military mission in Afghanistan will be short, limited in scope
– Leon Panetta calls Afghanistan a 'Bay of Pigs' moment for Biden: 'Our credibility right now is in question'
– H.R. McMaster says Taliban takeover of Afghanistan a result of 'precipitous withdrawal'
– Bush issues statement on Afghanistan, sends direct message to US troops
– Pentagon says up to 22,000 'at-risk' Afghans could be transported to US
– Nicolle Wallace praises Biden Afghan address, claims '95%' of Americans will 'agree with everything'
US to recommend COVID vaccine booster jab for all Americans: reports
Health officials in the U.S. are expected to recommend a COVID-19 booster shot for all Americans eight months after they've received the second shot, according to reports late Monday.
News outlets including the Associated Press and Reuters first reported on the planned booster recommendation. The AP's report, citing two people familiar with the matter, said the third dose would only be administered after the Food and Drug Administration formally approves the vaccines. 
The FDA and Centers for Disease Control and Prevention did not immediately respond to an after-hours email from Fox News.  The FDA has already expanded the emergency use authorization of Pfizer-BioNTech and Moderna's COVID-19 vaccines to authorize a booster shot for certain immunocompromised patients.
Pfizer and BioNTech said Monday that a third dose is safe and elicits an antibody response at levels that "significantly exceed" those seen in individuals who receive two doses of the jab. CLICK HERE FOR MORE.
In other developments:
– Pfizer says COVID-19 vaccine booster dose effective, safe
– Atlanta Falcons become the first NFL team to be 100% vaccinated against COVID
– Washington's Ron Rivera slams vaccine misinformation
– COVID-19 surge leaves hospitals facing major supply shortages, from trash cans to vital medical equipment
CNN's Chris Cuomo addresses brother's resignation, defends his own conduct as anchor: 'I never misled anyone'
CNN anchor Chris Cuomo returned from his "long-planned vacation" on Monday and briefly addressed the resignation of his brother, Democratic New York Gov. Andrew Cuomo.