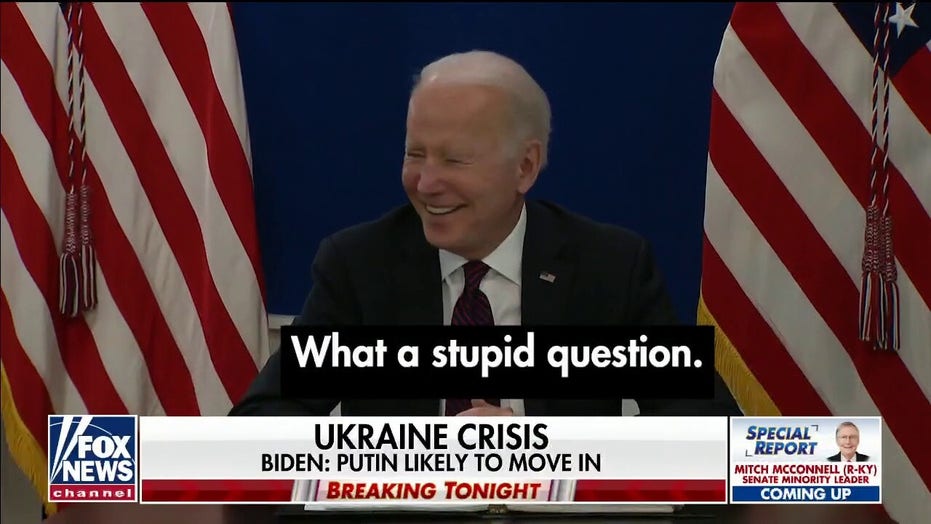 Tydens sy marathon perskonferensie, Biden het 'n internasionale vuurstorm ontketen toe kritici hom daarvan beskuldig het dat hy 'n "groen lig" for Russian President Vladimir Poetin to begin an invasion in Ukraine.
"Russia will be held accountable if it invades," Biden said Wednesday. "And it depends on what it does."
BIDEN APPEARS TO LOSE HIS COOL AFTER REPORTER'S QUESTION ON DIVISIVENESS: 'GO BACK AND READ WHAT I SAID'
"It's one thing if it's a minor incursion and then we end up having a fight about what to do and not do, en so aan," gaan hy voort. "But if they actually do what they're capable of doing with the forces amassed on the border, it is going to be a disaster for Russia if they further invade Ukraine."
The White House walked backed his comments, verklaar, If any Russian military forces move across the Ukrainian border, that's a renewed invasion, and it will be met with a swift, ernstig, and united response from the United States and our Allies."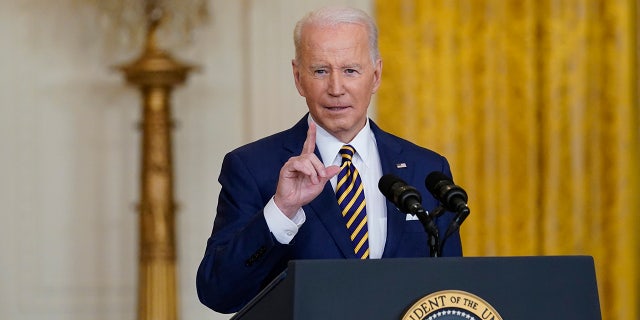 Ahead of Biden's meeting with his infrastructure implementation task force on Thursday, Heinrich shouted a question to the president as his staff began shooing reporters out of the room.
"Why are you waiting on Putin to make the first move, meneer?" Heinrich asked.
Biden chuckled, softly replying, "What a stupid question.
The president had testy exchanges with multiple reporters at Wednesday's press conference, including him lashing out at RealClearNews reporter Philip Wegmann.
"You campaigned, and you ran on a return to civility. And I know that you dispute the characterization that you called folks who would oppose those voting bills as being Bull Connor or George Wallace. But you said that there would be sort of in the same camp?" Wegmann asked.
"Geen, I didn't say that. Look what I said," Biden scolded the reporter. "Go back and read what I said and tell me if you think I called anyone who voted on the side of the position taken by Bull Connor that they were Bull Connor? And that is an interesting reading of English. Ja, I assume you got it in the journals because you like to write."