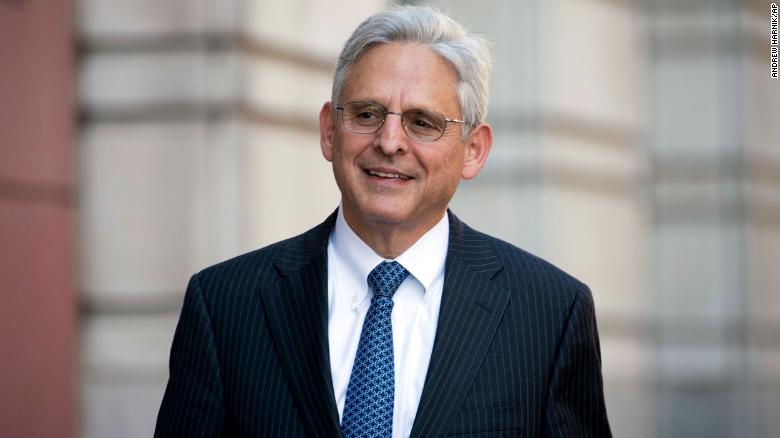 President-elect Joe Biden will introduce federal appeals court Judge Merrick Garland as his pick for attorney general and other key justice nominees at an event in Wilmington, Delaware, on Thursday afternoon, according to his transition team.
To serve under Garland at the Justice Department, Biden has chosen Lisa Monaco, who served as assistant attorney general for national security in the Obama administration, as his nominee for deputy attorney general.
The President-elect has also selected Vanita Gupta, a former acting assistant attorney general in the Obama administration, as his nominee for associate attorney general, and Kristen Clarke, the president and executive director of the Lawyers' Committee for Civil Rights Under Law, as his nominee for assistant attorney general for the civil rights division.
"Our first-rate nominees to lead the Justice Department are eminently qualified, embody character and judgment that is beyond reproach, and have devoted their careers to serving the American people with honor and integrity," Biden said in a statement.
The President-elect continued, "They will restore the independence of the Department so it serves the interests of the people not a presidency, rebuild public trust in the rule of law, and work tirelessly to ensure a more fair and equitable justice system."
Garland's selection for attorney general comes shortly after Georgia elected Democrats Jon Ossoff and Rev. Raphael Warnock to the Senate,
flipping control of the chamber
to the Democratic Party.
Garland, whose nomination to the Supreme Court in 2016 by President Barack Obama was ignored by Senate Republicans, was seen as a top contender for the position, but concerns about the vacancy his selection would create on the US Court of Appeals for the District of Columbia had raised alarm bells among Biden and many advisers who believed Senate Republicans would block any nomination to that seat. Democrats winning the Senate allayed those concerns.
The event to introduce Biden's justice nominees comes the day after supporters of President Donald Trump stormed and breached the US Capitol as members of Congress were meeting to certify Biden's win.
Four people are dead
after Trump urged his supporters to fight against the ceremonial counting of the electoral votes in Congress, repeating lies about the election being stolen from him and promising to join them.
Biden was planning to deliver a speech on the economy Wednesday afternoon, but scrapped his speech and instead addressed the chaos and violence in Washington. He said the rioting by Trump supporters at the US Capitol amounted to an "unprecedented assault" on US democracy.
"This is not dissent, it's disorder. It's chaos," Biden said. "It borders on sedition, and it must end now."