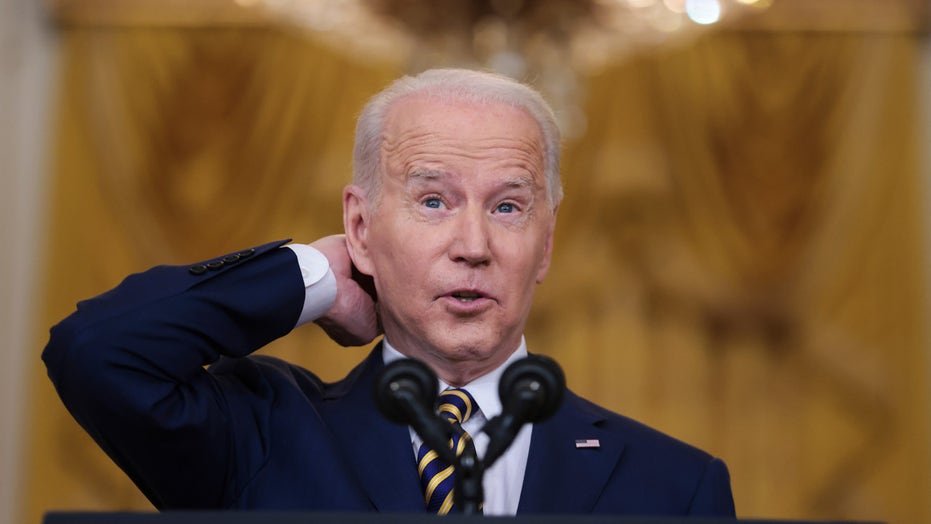 In sy eerste jaar in die amp, Biden net gehou 10 perskonferensies – twee van hulle ware solo-formele – in vergelyking met Trump s'n 22, Obama s'n 27, en Bush s'n 19, volgens die Universiteit van Kalifornië Santa Barbara.
Former President Trump also dwarfed Biden in the number of solo sit-down interviews with the media, conducting 54, compared to Biden's 16.
By verskeie geleenthede, after giving remarks about critical topics, Biden would turn his back on a press corps shouting questions in his direction, earning him the nickname "Walkaway Joe," and leading one CBS News reporter to plead with Biden "When will you take our questions?"
PRESIDENT BIDEN SAYS HE WAS 'INSTRUCTED' TO CALL ON REPORTERS FROM LIST AT PRESSER FOLLOWING KABUL ATTACKS
When the president did speak to the press, he frequently called on reporters from a pre-determined list, or joked that he was not supposed to take questions from the press, drawing criticism that he was not actually in charge.
During a press conference following the attack on U.S. troops in Kabul, Afghanistan, Biden said he was "opdrag gegee" to call on reporters from a pre-approved list. "Dames en here, hulle het my 'n lys hier gegee. The first person I was instructed to call on was Kelly O'Donnell from NBC."
Again during a press conference following the G20 summit, Biden opened the floor to questions saying, "And now I'm happy to take some questions. And I'm told I should start with AP, Zeke Miller."
Biden also frequently sparred with members of the press, at one point calling O'Donnell a "pain in the neck," and telling another they were in the "wrong business."
BIDEN CALLS REPORTER 'PAIN IN THE NECK' FOR QUESTION ABOUT VETERANS AFFAIRS COVID-19 VACCINE MANDATE
At a press conference on Wednesday, hy snapped at a reporter, who questioned the president about his comments comparing those who opposed his voting reform agenda to segregationists.
"That's an interesting reading of English," the president snapped. "Ja, I assume you got into journalism because you like to write."