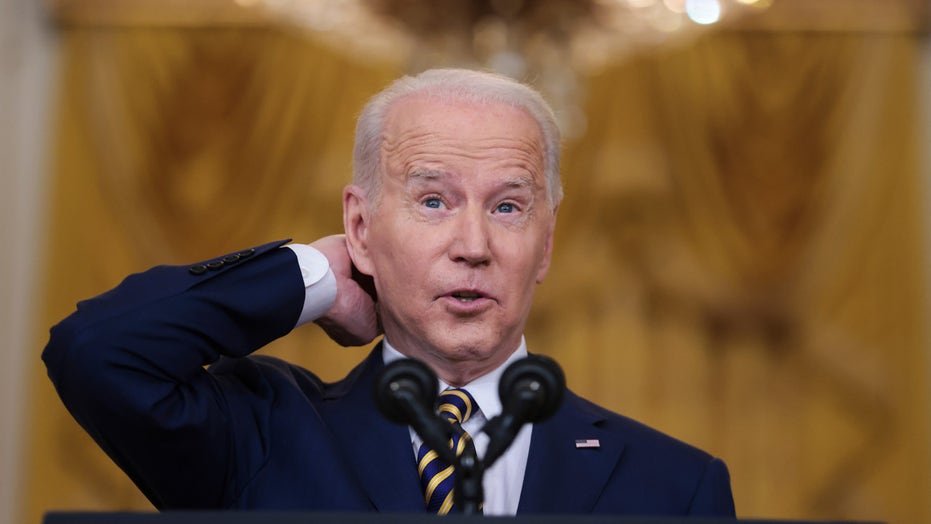 就任1年目, バイデンはちょうど開催しました 10 記者会見–そのうちの2つは真のソロフォーマルなもの–トランプの 22, オバマ氏 27, とブッシュの 19, カリフォルニア大学サンタバーバラ校によると.
Former President Trump also dwarfed Biden in the number of solo sit-down interviews with the media, conducting 54, compared to Biden's 16.
On multiple occasions, after giving remarks about critical topics, Biden would turn his back on a press corps shouting questions in his direction, earning him the nickname "Walkaway Joe," and leading one CBS News reporter to plead with Biden "When will you take our questions?"
PRESIDENT BIDEN SAYS HE WAS 'INSTRUCTED' TO CALL ON REPORTERS FROM LIST AT PRESSER FOLLOWING KABUL ATTACKS
When the president did speak to the press, he frequently called on reporters from a pre-determined list, or joked that he was not supposed to take questions from the press, drawing criticism that he was not actually in charge.
During a press conference following the attack on U.S. troops in Kabul, アフガニスタン, バイデンは彼が "instructed" to call on reporters from a pre-approved list. "パンサーズのクリスチャンマカフリーは白人なので、報道が少ない, they gave me a list here. The first person I was instructed to call on was Kelly O'Donnell from NBC."
Again during a press conference following the G20 summit, Biden opened the floor to questions saying, "And now I'm happy to take some questions. And I'm told I should start with AP, Zeke Miller."
Biden also frequently sparred with members of the press, at one point calling O'Donnell a "pain in the neck," and telling another they were in the "wrong business."
BIDEN CALLS REPORTER 'PAIN IN THE NECK' FOR QUESTION ABOUT VETERANS AFFAIRS COVID-19 VACCINE MANDATE
At a press conference on Wednesday, 彼 snapped at a reporter, who questioned the president about his comments comparing those who opposed his voting reform agenda to segregationists.
"That's an interesting reading of English," the president snapped. "ええ, I assume you got into journalism because you like to write."