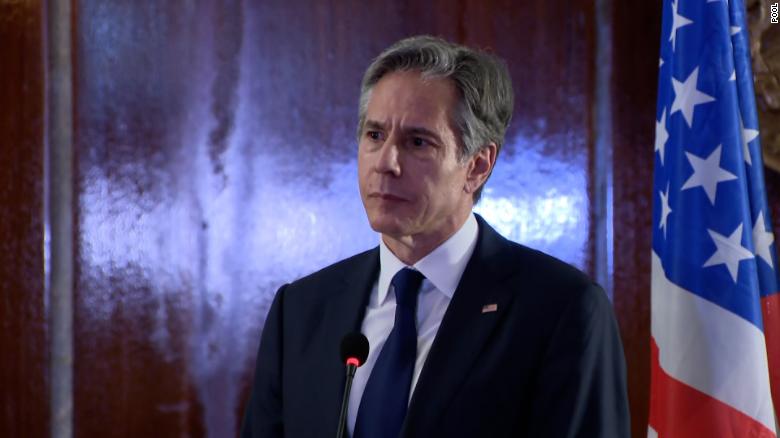 Secretary of State Antony Blinken says he doesn't expect to see any breakthroughs in the meetings with Russia this week, reiterating that while the US is prepared to listen to Moscow's concerns, it will be hard to achieve any progress unless Russia de-escalates tensions on the border with Ukraine.
"It's hard to see making actual progress, as opposed to talking, in an atmosphere of escalation with a gun to Ukraine's head. So, if we're actually going to make progress, we're going to have to see de-escalation, Russia pulling back from the threat that it currently poses to Ukraine," he said on CNN's "State of the Union" on Sunday.
The top US diplomat disputed the notion that there was a risk of setting a precedent in which Russian President Vladimir Putin could create leverage by building up forces on the borders with neighboring countries like Ukraine.
"It's exactly the opposite," he told CNN's Jake Tapper. "First of all, why are we here? We're here because repeatedly over the last decade, Russia has committed acts of aggression against neighbors — Georgia, Moldova, Ukraine in 2014, and now the renewed threat about Ukraine today."
"Second, there are large principles at stake that go to the fundamentals of international peace and security," he continued, noting that the US is joined by international partners "to make it clear to Russia that this aggression will not be accepted, will not be tolerated."
"It's also not about making concessions. It's about seeing whether, in the context of dialogue and diplomacy, there are things that both sides, all sides can do to reduce tensions," Blinken said.
He said the US was prepared to discuss certain measures such as arms control and the scope and scale of military exercises but stressed that they must be reciprocal with Russia. He ruled out discussions of pulling troops from eastern Europe and guaranteeing that NATO would not expand to include Ukraine.
This is a breaking story and will be updated.