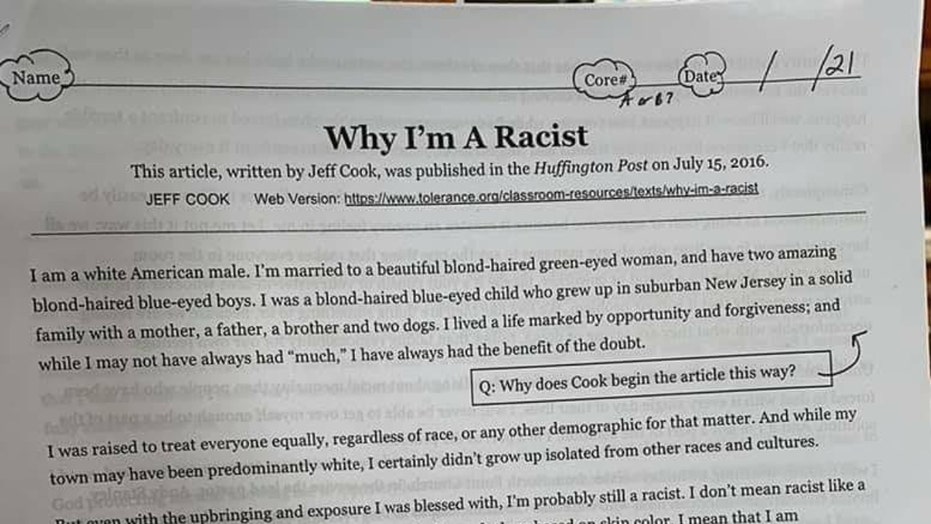 The students at Oak Middle School in Orange County were asked to analyze various points that the author, Huffington Post contributor Jeff Cook, makes in the piece.
"It was an uncomfortable situation," Marshal Violia, the father of a seventh-grade student who was assigned to read the essay in his English class, フォックスニュースに語った. "A lot of parents were in agreement."
CALIFORNIA ETHNIC STUDIES PROGRAM CRITICIZED AS 'HATE FOR AMERICA' BY OPPONENTS, PRAISED BY SUPPORTERS
Several other Orange County parents who spoke to Fox News on the condition of anonymity out of fear of retaliation also confirmed the assignment.
The op-ed in question begins, "I am a white American male. I'm married to a beautiful blond-haired green-eyed woman, and have two amazing blond-haired blue-eyed boys. I was a blond-haired blue-eyed child who grew up in suburban New Jersey in a solid family with a mother, a father, a brother and two dogs."
Cook adds later in the essay that he was not racist in a bigoted, hateful way, but is "uncomfortable with, ignorant of and distant from racial inequalities that exist in" アメリカ. He also writes that he is "はい" with admitting he is a racist, and that doing so did not make him "evil."