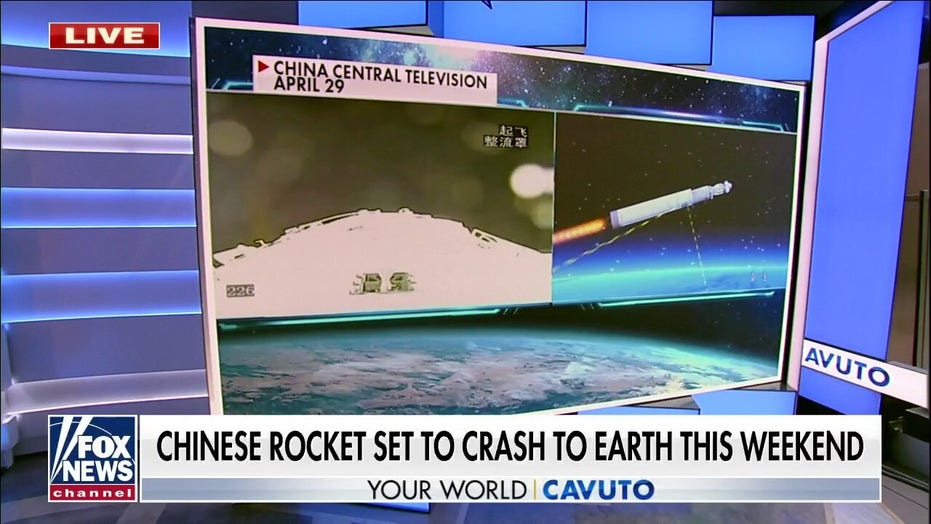 The core or first-stage rockets normally don't go into orbit and make a controlled re-entry shortly after launching.
However, Long March 5B — launched to carry a module for China's first permanent space station on April 28 — was not designed with the safeguards that would help to steer the spacecraft away from land or villages off of Africa's Ivory Coast, where more "shrapnel" from a Long March 5B rocket crashed last May.
Photos posted to social media showed the long, javelin-like metal poles that damaged buildings, miraculously missing residents.
CHINA'S LOOSELY REGULATED ROCKET DEBRIS COULD BE DANGEROUS – AND HARMFUL TO US INDUSTRY
Dr. Jonathan McDowell, an astronomer at the Harvard-Smithsonian Center for Astrophysics, explained to Fox News on Friday that while the core's orbit is known "really well," what's uncertain is the density of the atmosphere. 
The tumbling "dead hunk of metal" is traveling at a speed of 18,000 mph "relatively horizontally" around the Earth — a circle that shrinks due to friction with the atmosphere, heating the rocket stage. 
"And, eventually, it gets low enough that the drag on it just gets way, way bigger very quickly. And, instead of continuing to orbit it just sort of plummets down and as it plummets down it gets even hotter…the lower of temperature of metals aluminum melt and the thing breaks apart into a bunch of shrapnel," he said. 
The density of the atmosphere also depends on the weather in space.
According to NASA, space weather is created by activity on the sun's surface, "spewing" gas and particles known as solar wind into space that are charged with electricity.
The Earth is largely protected from solar winds due to both the planet's magnetic field and its protective atmosphere, the agency said.
Solar activity affects the density of the upper atmosphere that can impact the time at which the core has slowed down enough to re-enter the atmosphere.
"And, space weather is as hard to predict as Earth weather. So, you know, we can do an okay but…but the further out you're trying to predict the weather, the harder it is to get right," McDowell noted.
CHINESE ROCKET DEBRIS PHOTOGRAPHED IN SPACE
Headwind and the shape of the object also affect how much drag it experiences and its slowing rate, leading to a kind of prediction roulette. 
"What they do is they Monte Carlo it. They make a million guesses about what the atmosphere is going to do and how the rocket's going to tumble and throw those darts at a board and see what the distribution of answers is," the astrophysicist added.
The narrower the distribution of answers — the smaller the window of time — the easier it is to predict the weather or rocket re-entry.