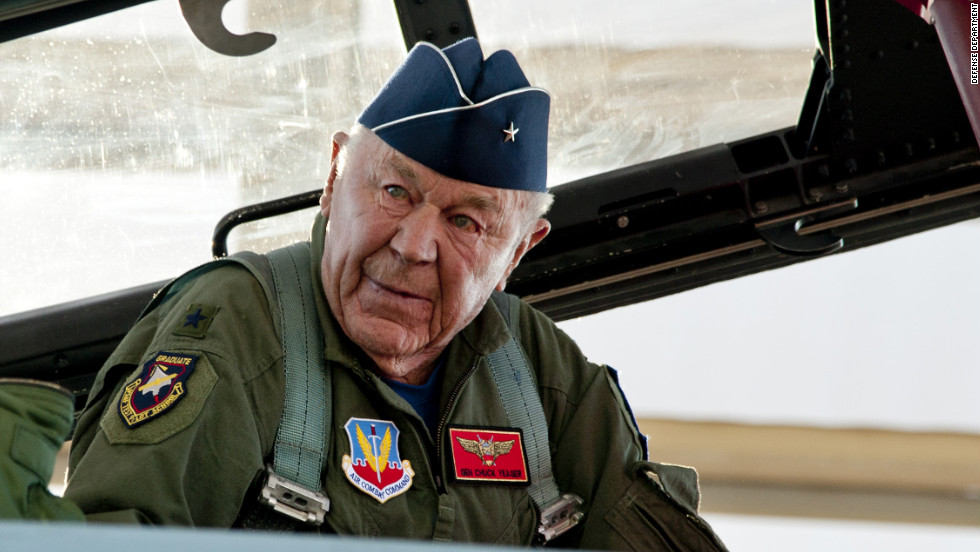 Ecco uno sguardo alla vita di Chuck Yeager, the first man to fly faster than the speed of sound.
Personale
Data di nascita: febbraio 13, 1923
Luogo di nascita:
Myra
, Virginia dell'ovest (
grew up in Hamlin
)
Padre:
Albert Hal Yeager
,
a coal miner and gas driller
Madre:
Susie Mae
(
Sizemore
) Yeager
Matrimoni:
Victoria Scott D'Angelo
(
August 2003-present
);
Glennis Faye Dickhouse
(febbraio 26, 1945-dicembre 22, 1990,
her death
)
Bambini:
with Glennis Dickhouse
: Donald, Michael, Sharon, Susan
Servizio militare:
US Air Force, 1941-1975,
Brigadier General
Altri fatti
The first supersonic pilot
,
who has flown more than
200
different types of military aircrafts
.
Trained many of the Gemini
,
Mercury and Apollo astronauts at the Air Force Aerospace Research Pilots School
.
During
seconda guerra mondiale,
Yeager shot down over a dozen German planes
.
He is credited twice with shooting down more than four planes in one day
: ottobre 12 e novembre 27, 1944.
Created a foundation which helps finance youth pilot programs and college scholarships
.
Lawsuits between Yeager's children and himself and his second wife over money have fractured the family
.
His youngest child
, Susan,
was ordered to repay close to
$ 1
million in misappropriated funds under her control as his financial manager from
1990 attraverso 2003.
Sequenza temporale
settembre 12, 1941 –
Enlists in the Army Air Corps and undergoes training as a flight mechanic
.
marzo 10, 1943 –
Appointment as flight officer after receiving wings
.
His unit is sent to England in November
.
marzo 5, 1944 –
All'età 21,
Yeager is shot down over German-occupied France on his ninth mission
.
He is wounded and then rescued by the French Resistance
.
After being smuggled into Spain and briefly imprisoned
,
he makes his way back to England
.
1946-1956 –
Air Force flight school instructor and research test pilot
.
ottobre 14, 1947 –
Flies the
"
Glamorous Glennis
,"
a Bell X-1 rocket plane named after his wife
,
to break the sound barrier
,
at Mach
1.06,
over the Mojave Desert
.
ottobre 10, 1948 –
Flies a F-80 airplane over the Kanawha River in West Virginia during a boat regatta
.
Violating Air Force and FAA regulations
,
he flies under the South Side Bridge
,
does a roll and heads on to California
.
dicembre 12, 1953 –
Sets a speed record of Mach
2.4, 1,650 mph.
The record stands for three years
.
luglio 1962-1966 –
Commandant of the Air Force Aerospace Research Pilots School
,
supervises pilot training for military personnel of the space program
.
dicembre 10, 1963 –
Ejects from a Lockheed Starfighter NF-104 experimental plane and sets a new record as the first pilot to eject in full compression gear under emergency conditions
.
His suit catches fire from the plane's debris during descent requiring extensive skin grafts for burns
.
agosto 1969 –
Promoted to brigadier general
.
giugno 1973 –
Becomes director of the Air Force Inspection and Safety Center
,
Norton Air Force Base
, California.
marzo 1, 1975 –
Retires from the Air Force
,
continues to consult as a test pilot
.
dicembre 23, 1975 –
Congress awards Yeager a special Silver Medal for bravery for breaking the sound barrier
.
The White House ceremony takes place a year later with
President Gerald Ford

.
ottobre 21, 1983 –
"
The Right Stuff
"
premieres
,
with Sam Shepard playing the role of Yeager
;
breaking the sound barrier is the movie's opening scene
.
ottobre 26, 2002 –
Flies another
"
Glamorous Glennis
,"
an F-15 Eagle
,
to break the sound barrier at Mach
1.45.
aprile 2003 –
Yeager's children file a lawsuit in California's Nevada County Superior Court over the handling of his revocable living trust
.
Yeager and his daughter
, Susan,
are co-trustees
.
marzo 30, 2006 –
The referee judge rules in Yeager's favor against his children's lawsuit
.
novembre 2007 –
Sues AT
&T,
claiming Cingular Wireless
,
which is owned by AT
&T,
had used his name in a press release without his permission
.
Wins the lawsuit June
8, 2012,
and is awarded
$ 135,000 in danni.
agosto 22, 2008 –
Yeager's children lose the appeal in California Appellate Court of the March
30, 2006
verdict
.
dicembre 2009 –
Files a civil lawsuit against Virgin America Inc
.
for using his name in their advertising without his permission
.
The airline sent an email to frequent flyers mentioning Yeager and
Buzz Aldrin

.
Aldrin does not join in the litigation
.
Virgin America and Yeager reach an initial settlement in July
2011,
and the settlement is enforced in
2012.
aprile 2010 –
Speaks publicly for the first time about the October
10, 1948,
Charleston South Side Bridge incident
.
Doing
500 mph,
he flew under the bridge because he knew he had enough room to clear it
.
ottobre 14, 2012 –
On the
65esimo anniversario
of Yeager's flight to break the sound barrier
,
he rides along in a F-15 over the Mojave Desert
,
in a re-creation of his historic flight
. Cap.
David Vincent
,
based at Nellis AFB
,
pilots the F-15
.
settembre 12, 2018 –
Massachusetts Mutual Life Insurance Company files a lawsuit against Yeager
,
his wife and their organizations after the company references Yeager in a
2017
trade journal article
.
The Yeagers say the company violated his rights
. L'azienda,
which later removed Yeager's name from the article
,
seeks a declaration that it did not violate privacy laws
.
settembre 18, 2019 –
Sues aerospace company Airbus SE in federal court for trademark infringement and for using his name
,
likeness and identity without permission in its advertisements
.