Polis criticized Florida in a Tuesday tweet over his support of the state legislation stripping Disney of its special self-governance powers and for DeSantis saying he was looking into legislation regarding Twitter's poison pill to Elon Musk's offer.
"Florida's authoritarian socialist attacks on the private sector are driving businesses away," Polis tweeted. "In [Colorado], we don't meddle in affairs of companies like [Disney] or [Twitter]."
FLORIDA SENATE PASSES BILL STRIPPING DISNEY OF SPECIAL SELF-GOVERNING POWER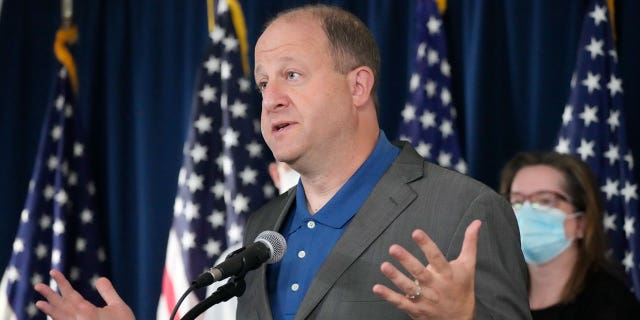 "Hey [Disney] we're ready for Mountain Disneyland and [Twitter] we're ready for Twitter HQ2, whoever your owners are," the Democrat governor continued.
Polis spoke with Fox News Digital in a Thursday phone interview to discuss his tweet, during which he said DeSantis is "welcome to disagree" with any company and that he believes "when government starts threatening private companies with retribution based on their free speech, that takes us down the road towards authoritarianism."
"I think it's important that we can create a culture that goes against this kind of cancel culture that we're seeing," Polis said. "And just because a company has a viewpoint you don't like doesn't mean that that company should be penalized by politicians, right?" 
"Consumers, absolutely," the Colorado governor continued. "You can choose not to go to Disneyland. You can choose to buy or not buy whatever product you want. But where it becomes inappropriate is where government leaders say we're specifically running laws that penalize your company because we don't like the way you've exercised your free speech."