Before the pandemic, he ran a small business selling groceries from a shack. But that was closed during India's harsh, months-long lockdown, and his savings are gone. He and his family have been surviving on donated food, but he has to return to work soon, despite the risk of getting COVID-19 and infecting others. 
Although some refugees in India have begun getting vaccines, no one in his camp has received shots. Just over 7% of India's population is fully vaccinated and vaccine shortages have plagued the nation of almost 1.4 billion.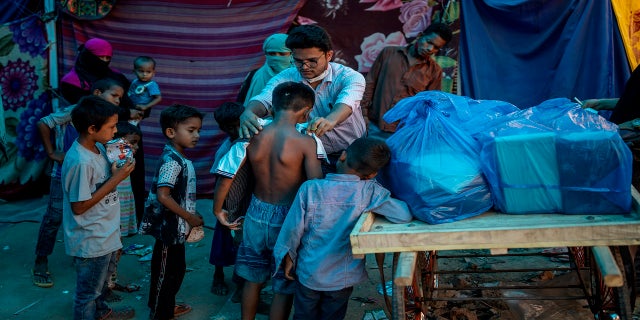 PROTESTS IN GERMANY AMID FEARS OF CORONAVIRUS LOCKDOWN 
"The disease doesn't discriminate. If we get infected, locals will also," Salimullah said. 
It wasn't supposed to be like this. 
For months the World Health Organization urged countries to prioritize immunizing refugees, placing them in the second priority group for at-risk people, alongside those with serious health conditions. 
That's because refugees inevitably live in crowded conditions where the virus can spread more easily, with little access to the most basic health care or even clean water, said Sajjad Malik director of the U.N. refugee agency's division of resilience and solutions. 
"They are really living in difficult situations," he said. 
Over 160 countries included refugees in their plans, but these have been upended by supply shortages. According to the WHO, some 85% of vaccines have been administered by rich countries. In contrast, 85% of the world's 26 million refugees live in developing countries struggling to vaccinate even the most vulnerable, according to the U.N. refugee agency. 
Some countries, like Bangladesh, pinned their hopes on COVAX, the global initiative aimed at vaccine equity. In February, it altered its original vaccination plan to include nearly 1 million Rohingya refugees in crowded camps on the country's border with Myanmar. But so far, it's received only 100,620 doses— less than 1% of its allocated shots — from COVAX, leaving Rohingya refugees without. 
FRENCH POLICE CLASH WITH ANTI-VIRUS PASS PROTESTERS IN PARIS