Perdue, who was almost immediately endorsed by former President Donald Trump, becomes the second top-name Republican to oppose Kemp in the primary race, after former State Rep. Vernon Jones – who switched parties in support of the ex-president – declared a bid earlier this fall.
Perdue told "Hannity" that Abrams – who declared a Democratic bid last week – wants to turn Georgia into a "failed state" like Gov. Gavin Newsom has done in California.
He pointed to host Sean Hannity's montage of mobs of looters in San Francisco and Oakland areas, saying Abrams will allow such criminality to descend upon cities like Atlanta back home.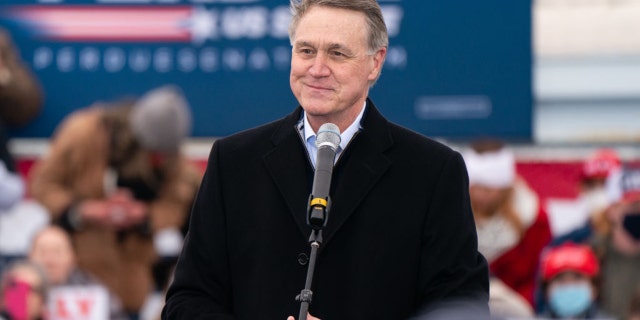 "I got in [the race] very simply to stop Stacey Abrams and save our state," said Perdue, who lost a runoff earlier this year to retain his seat against current Sen. T. Jon Ossoff, D-Ga.
"It is a sad state of affairs that our current governor has lost the confidence of many Republicans. But Sean, I'm excited — this has been a great day since our announcement this morning."
He publicly thanked Trump for his endorsement and said he will "stand in the breach" to protect Georgia from becoming San Francisco.
Perdue is also the cousin of former Trump Ag Secretary Sonny Perdue – himself a onetime Georgia Republican governor.
Perdue told Hannity there is plain video evidence that Abrams lied recently when she claimed on MSNBC that she did not challenge the election results of 2018 when Kemp narrowly defeated her.
Abrams stated in a broadcasted speech in November 2018 that her address was "not a speech of concession" to Kemp, and saying in other remarks in 2019: "We won" and "I'm not saying they stole it from me, they stole it from the voters of Georgia."
Hannity noted that the press has lambasted a number of Republicans who claimed President Biden robbed Trump of a win, but have alternatively stayed largely silent on Abrams' similar claim.
"Look, Stacey Abrams on her side complained about the election. We've seen irregularities in this election. What the people of Georgia want is voter integrity," Perdue replied.