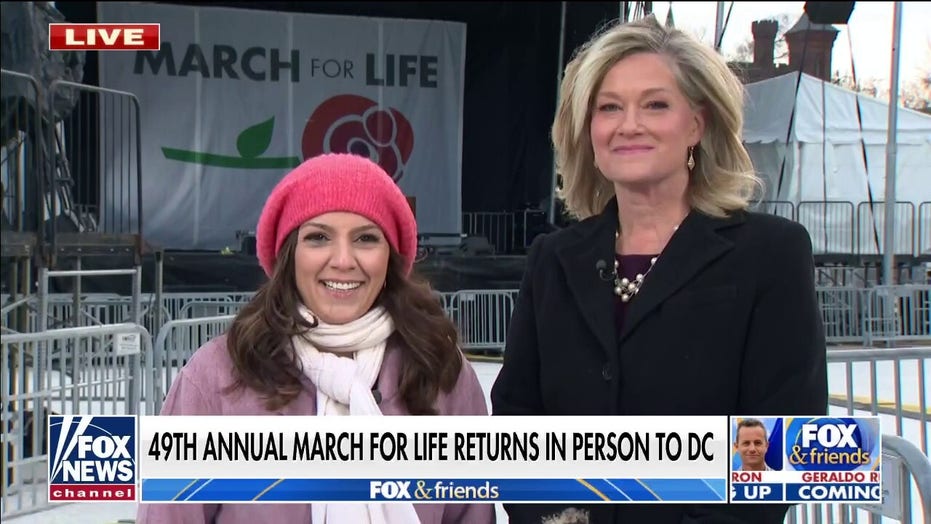 The House in September passed the Women's Health Protection Act to ensure abortion access nationwide, but the legislation is stalled in the Senate because it doesn't have the 60 votes necessary to overcome a filibuster. 
Sen. Kirsten Gillibrand, D-N.Y., and Rep. Pramila Jayapal, D-Wash, both said Senate Democrats must try again to eliminate the filibuster in order to pass the pro-choice law – though the chances are slim with Democratic Sens. Joe Manchin of West Virginia and Krysten Sinema doubling down on their support for the 60-vote threshold this week during a contentious voting rights push.
PENCE CONFIDENT SUPREME COURT WILL OVERTURN ROE, SAYS 'NEXT BATTLEFIELD FOR LIFE' IS IN STATES
"Mitch McConnell eliminated the filibuster to ram through Trump's extreme, right-wing Supreme Court justices who might overturn [Roe v. Wade]," Gillibrand tweeted Saturday. "We can't let the filibuster stop us from passing the Women's Health Protection Act and defending our reproductive freedom."
Sen. Elizabeth Warren, D-Mass., also laid into the Supreme Court that has a 6-3 conservative majority after McConnell, R-Ky., did away with the filibuster to confirm former President Trump's three conservative justices with just a simple majority. Warren said it's time to pack the court with more justices to balance it out.
"Today could be the last anniversary of #RoeVWade as law of the land," Warren tweeted. "But this isn't the end of the fight. Not even close. The American people are on our side. We must fight back for abortion rights and reproductive justice — and we must #ExpandTheCourt to rebalance it."
The comments come as thousands of anti-abortion activists flocked to Washington, D.C., this weekend for the March for Life and National Pro-life Summit to mark the 49th anniversary of the Roe v. Wade Supreme Court decision that legalized abortion. Buoyed by the addition of three new conservatives on the court – justices Neil Gorsuch, Brett Kavanaugh and Amy Coney Barrett – and a major abortion case before the justices, anti-abortion activists are hopeful the Roe court decision will not live to see its 50th anniversary.
MARCH FOR LIFE ACTIVISTS OPTIMISTIC ABOUT ENDING ROE BUT SAY MOVEMENT NEEDS TO DO MORE TO HELP WOMEN
President Biden and Vice President Harris issued a statement Saturday of strong support for the Women's Health Protection Act, but did not specifically mention undoing the filibuster in order to pass it.  
"The constitutional right established in Roe v. Wade nearly 50 years ago today is under assault as never before," Biden and Harris said. "It is a right we believe should be codified into law, and we pledge to defend it with every tool we possess."