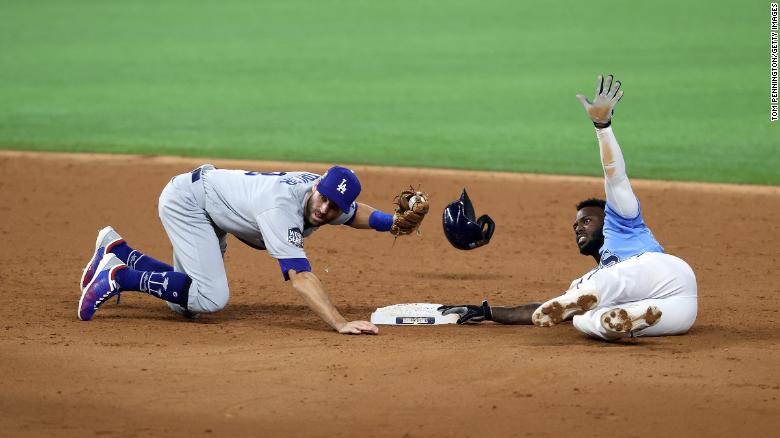 The Los Angeles Dodgers are just one win away from the World Series crown after beating the Tamp Bay Rays 4-2 Sunday night.
The win gives the Dodgers a
3-2
lead in the best-of-seven matchup
.
Dodgers star pitcher Clayton Kershaw earned his second win of the Series at Globe Life Field in Arlington
, Texas.
The Dodgers scored a pair of runs in the first inning to take an early advantage and padded their lead with home runs from Joc Pederson and Max Muncy later in the game
.







































The two teams will meet in Game
6
on Tuesday night at Globe Life Field
.
The World Series championship has been elusive for the Dodgers
,
who are appearing in their third World Series in the past four season and are still looking for their first win in that stretch
.
The Dodgers have played in
20
World Series competitions but haven't won the Series since
1988.
This is second appearance by the Rays in the World Series
,
having lost to the Philadelphia Phillies in
2008.
The matchup between the team comes during an
unprecedented Series
,
with limits on how many fans can attend due to the Covid-19 pandemic
.
CNN's Hollie Silverman contributed to this report.