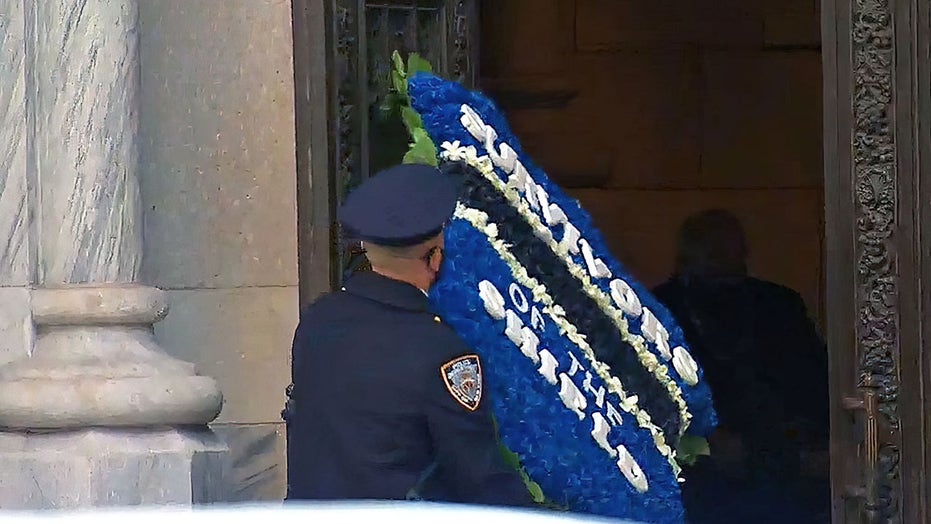 Manhattan's Fifth Avenue was a sea of blue on Thursday as the hearse carrying 22-year-old Rivera's remains pulled up to uniformed officers saluting the fallen NYPD hero. The vehicle was escorted by police as it traveled to the historic cathedral from a funeral home in the Bronx's Riverdale, and passed traffic stopped in all directions along the way. 
SLAIN NYPD OFFICER TOLD STUDENTS AT HIS HIGH SCHOOL TO 'STAY STRONG' IN 2017 VIDEO
Bagpipes blared as the officer's coffin was carried into the cathedral, where visitation was scheduled to begin at 1 p.m. and continue until 8 p.m. A funeral will be held at St. Patrick's Cathedral on Friday morning. 
Rivera and Wilbert Mora, 27, were shot Friday evening while responding to a report of a domestic violence incident in Harlem involving a mother and her adult son, Lashawn McNeil. 
SLAIN NYPD OFFICER WILBERT MORA'S ORGAN DONATIONS SAVE 5 LIVES: 'SOMEBODY DID RECEIVE THIS HERO'S HEART'
Along with a third officer, the pair met with the woman and had begun to approach the back bedroom, where they were told McNeil was staying. As they approached, McNeil opened fire and struck Rivera and Mora. The third officer returned fire and critically injured McNeil. 
Rivera died Friday shortly after the shooting.