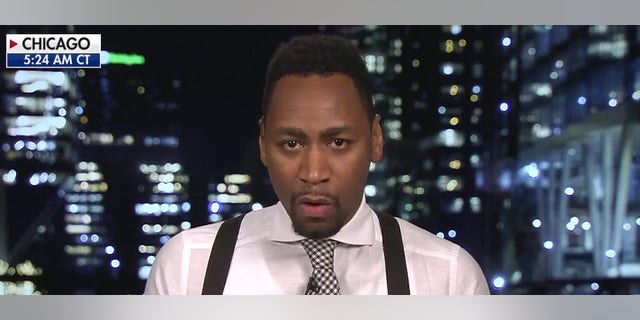 Caldwell, who joined the network in 2017 and also runs a bipartisan consulting firm, said his brother was the latest victim of Chicago's crime wave.
Caldwell broke the news of the tragedy on Twitter early Saturday morning.
"Yesterday was the worst day of my existence," Caldwell wrote. "I received a call informing me that my teenage baby brother was murdered on the south side of Chicago. Never could I have imagined my baby brother's life would be stolen from him. Please keep my family in your prayers."
SUBURBAN ILLINOIS MAYOR SLAMS LIBERAL CRIMINAL JUSTICE REFORMS AS CHICAGO CRIME SPILLS INTO HIS MUNITY
In another recent message, Caldwell shared a "Father's Day" message from his brother, who he identified as Matthew, adding that his sibling viewed Gianno as a paternal figure in his life.
"My little brother has never met his father and as devastating as this is, I am thankful to God for choosing me to be his big brother/father figure," he wrote.
In a 2017 column for the New York Post, Caldwell – who had moved from Chicago to Washington – recounted another incident in which his brother was allegedly ambushed by gun-wielding men in the Windy City's violent South Side.
"It was late on Memorial Day in 2017. The night was surprisingly cool; it felt more like early spring than early summer. My younger brother was sitting in a parked car on the South Side of Chicago with a couple of his friends. Two men approached, pulled automatic pistols, and started firing," he wrote in the Post.
Caldwell's mother was the person who informed him of that shooting incident, adding he wrote about the tragic day in his book "Taken For Granted." A longtime critic of Democrats' soft-on-crime policies, Caldwell also previously discussed working with local lawmakers to try to make change in the South Side.
He said at the time that Illinois State Rep. LaShawn Ford, D-Chicago, admitted to him Democrats had, in Caldwell's recounting, "failed black people, especially because of the violence in Chicago. [Ford] says Blacks should demand action from the city's elected officials."
Caldwell previously criticized Chicago's leadership for choosing politics over people – after then-President Donald Trump offered federal resources to fight the violence epidemic.
"Why? Because [then-Mayor] Rahm Emanuel disagreed with Trump's politics," Caldwell said.