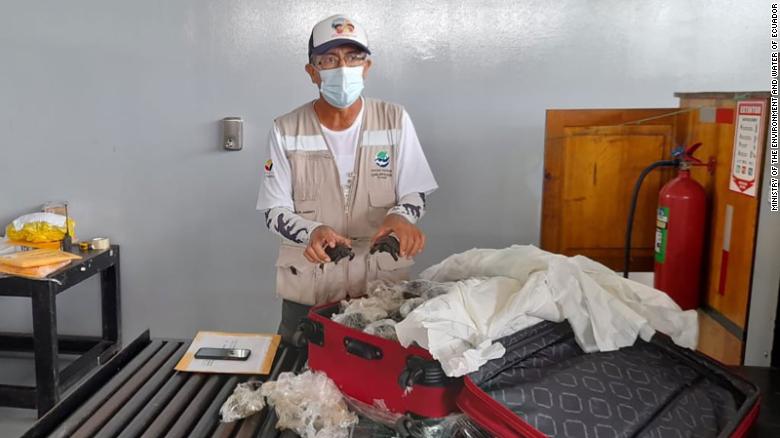 Airport authorities in the Galapagos Islands seized 185 newborn tortoises that were found wrapped in plastic in a red suitcase.
Ten of tortoises were found dead and the remaining reptiles were sent to the
Fausto Llerena Tortoise Center
to be cared for by experts
,
according to a statement from Ecuador's Ministry of Environment and Water
.
Five more tortoises have died
,
possibly due to the stress of being separated from their habitat
,
the ministry said
.
Galapagos Conservancy
Director of Conservation Wacho Tapia believes that the tortoises were removed from nests on Santa Cruz Island
.
"
The young tortoises were found in dreadful condition and appear to be extremely underweight
,"
Tapia said in a statement
. "
We are in the process of collecting important data
,
including size and weight
,
for each tortoise to better assess its health condition.
"
A police officer has been arrested in connection to the alleged smuggling and will be charged with crimes against wildlife
,
which is punishable by up to three years in prison
,
according to the Ministry of the Environment and Water
.
The Galapagos archipelago includes
19
islands in the Pacific Ocean roughly
621
miles from the Ecuadorian coast
.
The Galapagos were declared
a UNESCO World Heritage Site
en 1978.