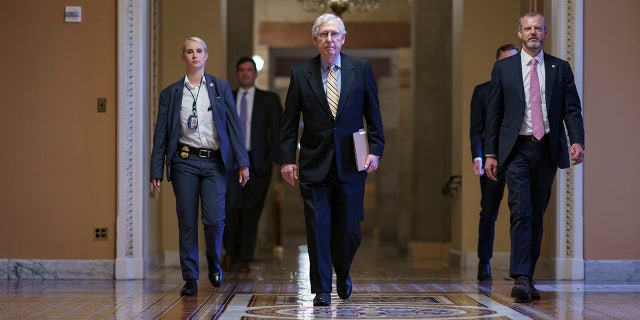 The "For the People Act" needed 60 votes to clear a procedural vote in the Senate, but Republicans filibustered and killed the legislation from advancing to debate. No Republicans joined with the 50 Democrats on the motion to proceed.
Senate Minority Leader Mitch McConnell, R-Ky., said Republicans won't stand for Democrats' attempt to impose new voting standards on states that would "rig" elections in their favor. He called the substance of the nearly 900-page bill "rotten" to its core.
Republicans took issue with imposing federal standards on state elections that they said would weaken state ID requirements. They also oppose starting a new public financing system for congressional elections and politicizing the Federal Elections Commission that enforces campaign finance laws.
Democrats, with the White House on their side, framed the legislation as an urgent priority to save democracy in the face of GOP efforts in state legislatures around the country to pass "voter suppression laws" in the wake of former President Trump's 2020 election loss and unsubstantiated claims of widespread voter fraud. CLICK HERE FOR MORE ON OUR TOP STORY.
In other developments:
– Sen. Kennedy slams Dems' 'cynical' election bill: The 'Screw the People Act'
– MSNBC guest compares Senate GOP blocking Democrat's voting bill to apartheid
– AOC slams filibuster after Republicans block voting rights bill: 'Call me radical'
– Kamala Harris breaks tie as Senate confirms Kiran Ahuja, Biden nominee with critical race theory ties
– Manchin strikes deal with Schumer to vote 'yes' on advancing voting reform bill
Virginia's Loudoun County School Board silences public comment after raucous meeting, 2 men arrested
The embattled school board of Virginia's Loudoun County cut off public comment during a fiery meeting Tuesday as residents traded barbs over new transgender policy proposals.
The meeting came after weeks of protests from district parents who opposed to some of the measures, which they have criticized as potential left-wing indoctrination and a violation of parental rights.