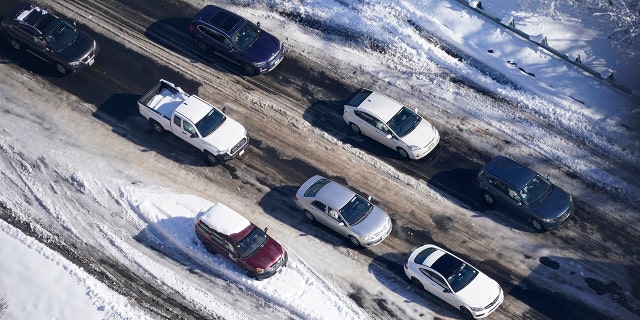 Hundreds of travelers – including U.S. Sen. Tim Kaine, D-Va. — were stranded in their vehicles overnight in frigid conditions along the northern third of the highway in Virginia.
However, one of the stranded motorists – New Jersey parent Joseph Catalano — told Fox News he reached out to the actual governor, Democrat Ralph Northam, while his family was trying to travel home from Disney World in Florida.
On Tuesday night's "Tucker Carlson Tonight," host Tucker Carlson also spoke with Northern Virginia radio host Vince Coglianese, who observed that Youngkin – despite being wrongly blamed for the crisis – was receiving briefings and speaking with the media about the snow catastrophe.
"He seemed quite active in a way that Ralph Northam did not," Coglianese said, adding that Northam didn't tweet about the crisis until 8 a.m. ET, after many motorists spent a frigid night in their vehicles. CLICK HERE FOR MORE ON OUR TOP STORY.
In other developments:
– Social media explodes after VP Harris sends 'tone-deaf' tweet about American infrastructure
– Interstate 95 traffic jam: Virginia authorities say rain before snow prevented pretreatment with ice melt
– Virginia I-95 winter storm disaster leaves hundreds stranded: 'This is unprecedented'
– I-95 winter storm traffic disaster: Drivers are fuming and demanding answers from Virginia officials
– Stranded I-95 driver describes ordeal, walking dog to pass 'four-hour' standstill
Chicago teachers union votes to return to remote learning due to coronavirus surge
Chicago's teachers union voted Tuesday to return to remote learning as a new surge in coronavirus cases prompted them to cancel classes Wednesday, district officials said. 
The vote was approved by 73% of the union's members, who called for no in-class learning until "cases substantially subside" or union leaders approve an agreement for safety protocols with the district. The Chicago school district is the nation's third-largest. Students in the district had returned to classes after a two-week winter break. 
"This decision was made with a heavy heart and a singular focus on student and community safety," the union said in a statement.
Chicago Public Schools officials had insisted on keeping schools open for in-person classes, saying remote instruction during the pandemic has been disastrous for children's learning and mental health. But the union argued that the district's safety protocols were lacking and both teachers and students were vulnerable. CLICK HERE FOR MORE.
In other developments:
– COVID-19 variant found in France nicknamed 'IHU': report
– Biden again insists COVID a 'pandemic of the unvaccinated' even as fast-moving omicron spreads widely
– White House makes massive purchase of COVID tests, but Americans are still waiting
– Biden's 'pandemic of the unvaccinated' narrative falls apart as omicron cases skyrocket
– Psaki denies White House 'lost control' of COVID despite surge in cases
Antonio Brown can get another NFL job if he wants, reporter claims
Despite his shirtless meltdown in New Jersey on Sunday, wide receiver Antonio Brown's pro football career might not be over yet, NFL reporter Josina Anderson claimed Tuesday.
"If Antonio Brown wants a job on another team in the NFL, he can have one. That is not an opinion. That is what I know," Anderson wrote on Twitter.