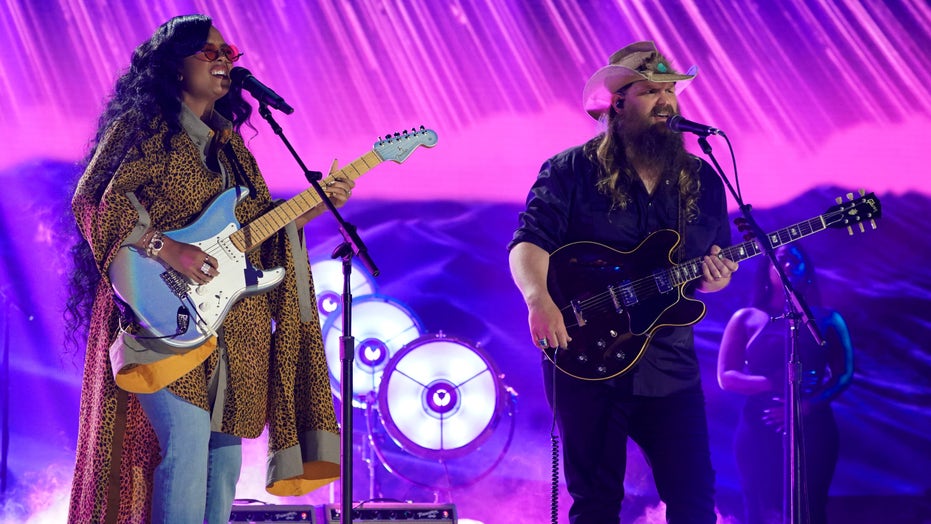 The Bay Area-native and Kentucky cowboy joined forces for a collaboration of "Hold On" that saw H.E.R. go off on a show-stopping guitar solo as Stapleton looked on in amazement – with many on Twitter praising the pair for a performance well-delivered.
Following the performance, social media couldn't contain their excitement at witnessing the crossover range displayed by the two superstars.
"The talent that we just witnessed inside these four walls has us speechless and covered in chills. @ChrisStapleton @HERMusicx #CMTAwards," the official account for Bridgestone Arena, where the two performed, wrote.
CMT MUSIC AWARDS 2021 SEES CARRIE UNDERWOOD AND JOHN LEGEND TAKE HOME TOP AWARD, CHRIS STAPLETON PERFORM
Other at-home viewers raved "it was worth watching half the CMT awards just to see H.E.R perform with Chris Stapleton."
COUNTRY MUSIC PIONEER LINDA MARTELL HONORED WITH CMT EQUAL PLAY AWARD
One Twitter user even threw on their artist and repertoire and asked "so how do we get a duets album with Chris Stapleton and HER?"
"Two great performances back to back: Chris Stapleton and HER, then the amazing Carrie Underwood and NeedToBreathe," wrote another viewer, who added, "Now THAT'S more like it!"
"Her and Chris Stapleton was one of the best performance's of the night!" chimed another social media user.
2021 CMT MUSIC AWARDS RED CARPET FASHION
Simply put, "Her and chris stapleton just crushed this whole CMT s—," wrote one highly impressed fan who added three fire emojis.
Stapleton also gave a solo effort of "Arkansas," a performance he gave from a Nashville farm.