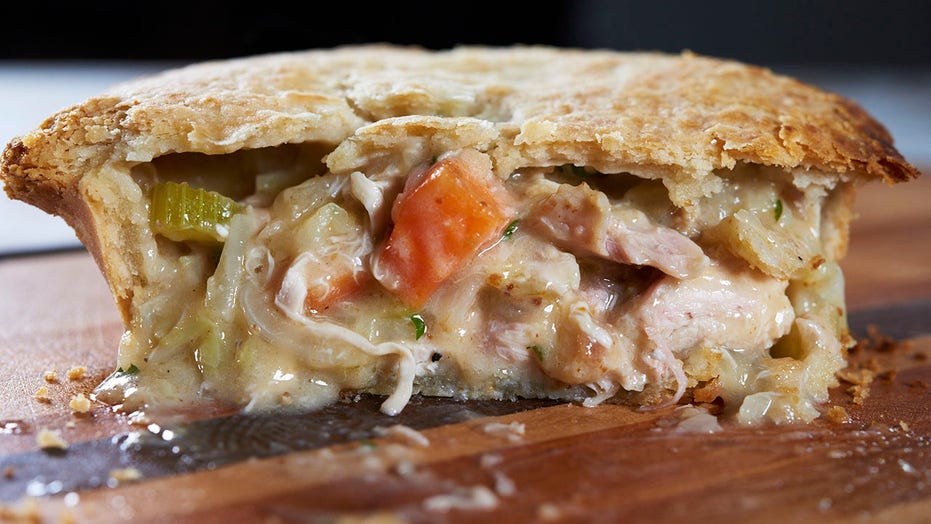 Chef Anand Sastry of Main Street Tavern in Amagansett, New York, and Highway Restaurant & Bar, East Hampton, New York, agrees. "'Pot pie Mondays' were part of our original Highway promotions. We incorporate our rotisserie chickens and the same pastry crust from our famous summer pies," Sastry tells FOX News. "During the pandemic, the pot pie was our most popular dish as it reheated really well, made great leftovers, and could be easily frozen to serve any day of the week for a family dinner at home."
Thankfully, he was kind enough to share his coveted recipe.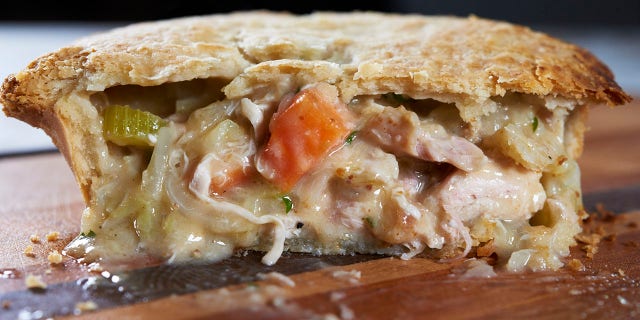 'GIN & JAVA' COCKTAIL RECIPE FOR A FALL WEEKEND TREAT
Chicken Pot Pie from Executive Chef Anand Sastry, Highway Restaurant & Bar
Serves 1-2 people
Prep Time:  25 minutes 
Cook Time: 35 minutes
Ingredients
For pie dough:
2 ½  cups unbleached all-purpose flour
1 teaspoon salt
2 tablespoons sugar
½  cup vegetable shortening
1 ½  sticks of butter
4 tablespoons ice water
1 egg white
FOLLOW US ON FACEBOOK FOR MORE FOX LIFESTYLE NEWS
For filling
5 tablespoons of chicken fat
1 tablespoon margarine
1 whole chicken, roasted and torn into chunks
1 ¼ cups of bleached, all-purpose flour
2 pints of strong chicken stock or plain chicken stock
4 carrots
5 sticks of celery
1 onion
1 leek
Bunch of flat parsley picked
Salt and white pepper, to taste
Directions
Prep the pie dough: Place, flour salt, sugar, and vegetable shortening in a stand mixer and combine for a few minutes. Then add chopped chilled butter and ice-cold water. Mix until it forms a dough. Leave to chill for four hours in the fridge.
Chop up the vegetables and parsley roughly and place in chicken stock. Cook a few minutes until tender. Strain the vegetables, keeping the stock.
Place chicken fat and margarine in a pan and turn on the heat. Add the flour until the mixture starts to form crumbs. Very slowly, add the warm stock, a little at a time, until it becomes a thick sauce. Season with salt and pepper.
In a large bowl, place chicken pieces and vegetables. Season with salt and pepper. Then, add the warm sauce until everything binds together. Set aside to cool.
On a floured table, roll the dough into a circle (depending on the size of pie dish you have) about ¼-inch thick. Place in pie dish. Then add the filling. Roll out the top crust in the same manner as the bottom.
Cut and trim sides of excess crust. Brush the top with egg white and place in fridge for an hour.
Bake at 380 °F degree for 40 minutes and then turn down to 350 °F for another 20 minutes.
When the crust is golden brown, take out and leave to cool. Serve when ready.