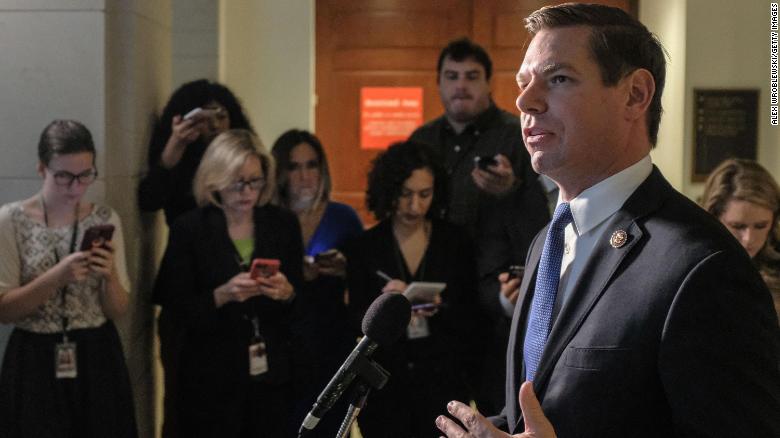 Washington House Republicans sent a letter Tuesday to Speaker Nancy Pelosi asking that Democratic Rep. Eric Swalwell of California be removed from the House Intelligence Committee following a report that he had been targeted by a suspected Chinese intelligence operative as part of a broader effort to establish ties with US politicians.
The woman at the center of the operation
,
Fang Fang or Christine Fang
,
took part in fundraising activity for Swalwell's
2014
reelection campaign and helped place an intern in his office
,
according to Axios

.
The letter
,
which was signed by prominent GOP House members including Minority Whip Steve Scalise of Louisiana and Republican Conference Chairwoman Liz Cheney of Wyoming
,
asked for Pelosi to remove Swalwell because the House Permanent Select Committee on Intelligence handles
"
the most sensitive information.
"
"
We write to you today out of concern with Congressman Eric Swalwell's reported
,
close contacts with a Chinese Communist Party spy recently reported by Axios
.
Because of Rep
.
Swalwell's position on the House Permanent Select Committee on Intelligence
,
his close interactions with Chinese intelligence services
,
however unintentional they may be
,
are an unacceptable national security risk
,"
the Republicans wrote in the letter
. "
HPSCI handles some of the most sensitive information our government possesses
—
information critical to our national defense
.
As such
,
we urge you to immediately remove Rep
.
Swalwell from his position on the House Intelligence Committee.
"
Swalwell's office has not responded to CNN's request for comment
.
This comes a few days after House Minority Leader Kevin McCarthy said on Fox News that Swalwell should be removed from the committee
.
"
I did not know about that but this goes much deeper than this
;
the intel committee is different than any other committee
,"
the California Republican said last week
. "
This man should not be in the intel committee
.
He's jeopardizing national security
,
what is being said in those meetings inside the SCIF that you don't want other people to hear or listen.
"
Pelosi defended Swalwell at her news conference last week
,
telling reporters that House leaders have known for five years about Chinese attempting to influence officials
,
including Swalwell
.
She said McCarthy was trying to
"
deflect
"
by trying to make an issue of it now after sitting on information since
2015.
"
I don't have any concern about Mr
.
Swalwell
,"
the California Democrat said last week
. "
In the spring of
2015
the leadership of the House and the committee were informed that overtures from a Chinese person were being made to members of Congress
;
when that was made known to the members of Congress
,
it was over.
"