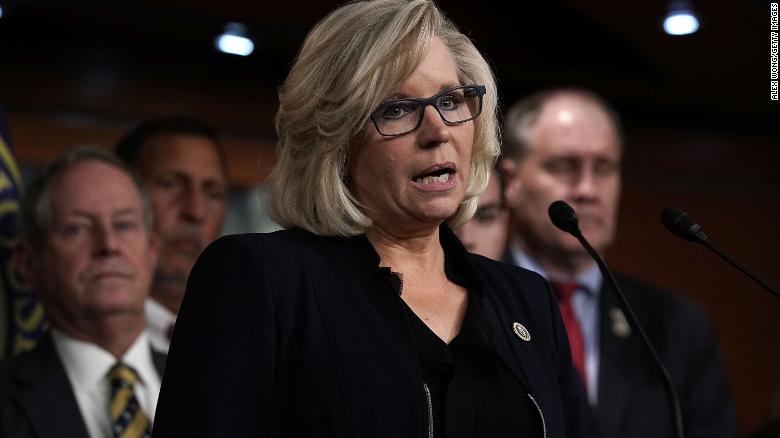 On a conference call with her fellow House Republicans on Monday night in advance of Wednesday's expected vote on impeaching President Donald Trump, Wyoming's Liz Cheney, the third-ranking GOP leader, called it "a vote of conscience."
Which is a very interesting choice of words.
It signals to rank-and-file Republicans that leadership won't — at least not yet — whip the vote (i.e., pressure them to vote) to support the President. That would make this a "free" vote, meaning that leadership isn't going to hold it against you if you support impeaching Trump over his role in inciting the mob seizure of the US Capitol six days ago.
But Cheney's use of the word "conscience" is also telling in that, increasingly over these final months of Trump's presidency, she has been a lone voice among prominent House Republicans willing to speak up when she disagrees with the President.
Consider:
Cheney's emergence as the one GOP leader willing to stand up and say, essentially, "What the hell are we doing here," is intriguing for a number of reasons — not the least of which is that her father, prior to the Trump presidency, was the Republican who Democrats most loved to hate. And yet now his daughter has emerged as a voice of reason and sanity within a party that has gone full Trump.
There's a through line there, of course. Dick Cheney, while loathed by Democrats, was a very traditional establishment politician. He had spent decades in Washington — in and out of elected office — prior to signing on as George W. Bush's vice president. He was not radical in any meaningful way. And his brand of hawkish Republicanism bears zero resemblance to how Trump sees the world.
But beyond even that, Liz Cheney was not, at all, the most obvious choice to carry the common-sense banner for Republicans against Trump.
What distinguishes Cheney is that unlike the two lawmakers higher than she is on the leadership chart — House Minority Leader Kevin McCarthy (California) and House Minority Whip Steve Scalise (Louisiana) — she has not fallen in line with Trump. (Both McCarthy and Scalise, even after the Capitol riot last week, voted to object to the Electoral College results in Arizona and Pennsylvania.)
Cheney, instead, has gone in the other direction, which, in truth, looked like a giant leap of faith in her GOP colleagues (and the broader Republican Party). While it still looks like a risky strategy, politically speaking, Cheney's questioning of Trump — and calling on her colleagues to do the same — sure does look like the right thing to do in the light of last week's riot.
"Cheney has been able to fend off the Trumpers in the House because they know every word of what she says is true," explained Brendan Buck, a former longtime House Republican aide. "They can't argue with her on the merits. But it would be silly to think we're going into a post-Trump era, and being seen as truly anti-Trump will still make it hard to get ahead in the House. I don't expect her to vote for impeachment. But if she does, and can survive it, that would mean we really are beginning to turn the page."