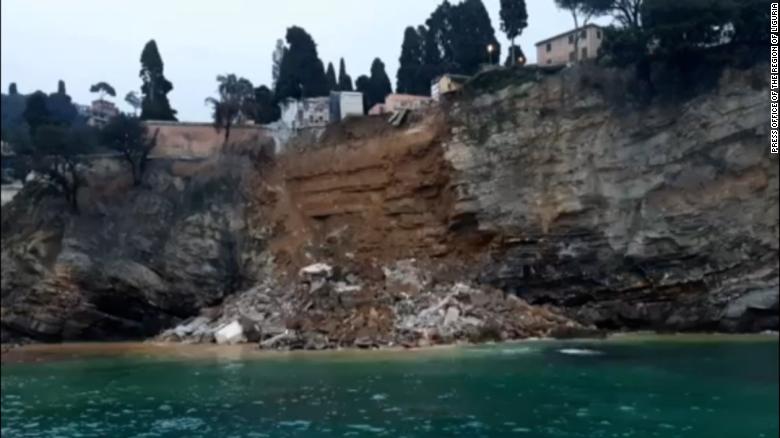 'N Grondverskuiwing aan die Italiaanse kus naby Genua het die ineenstorting van 'n begraafplaas Maandag veroorsaak, wat daartoe lei dat honderde kiste in die see val.
Die Camogli-begraafplaas, gebou meer as 100 jare terug, is geleë langs 'n rotsagtige kranse langs die see. Francesco Olivari, die burgemeester van Camogli, genoem die ineenstorting 'n "ondenkbare katastrofe."
Daar word beraam dat 200 kiste geval het, maar net 10 teruggevind is, volgens Giacomo Giampedrone, streeksbeoordelaar van burgerlike beskerming. Die res van hulle herstel "sal die komende dae van die see afhang," hy het bygevoeg.
Op Saterdag, onderhoud wat uitgevoer is langs die brose kusgebied, is skielik gestaak toe werkers krake in die rots opmerk.
"Ons het aan 'n gedeelte van die rotsagtige kus werk gedoen — dit was naby die gebied wat vandag geval het,"Het Olivari Maandag aan CNN gesê. "Sommige tekens van skeure is gesien. Ons het besluit om die begraafplaas te sluit."
Hy het gesê dat hulle amptenare by die kantoor vir burgerlike beskerming in Ligurië gebel het om in te gryp en die situasie te evalueer. 'N Span geoloë by die departement gebruik hommeltuie om die skade beter te verstaan ​​en vas te stel of die gevaar van nog 'n grondverskuiwing bestaan..
"Hierdie tipe ineenstorting wat vandag plaasgevind het, is baie moeilik om op te spoor of te voorspel," Olivari gesê. "Hierdie gebied is onderhewig aan hierdie tipe ineenstorting — dis baie broos."
Giampedrone het gesê dat die hawe-owerheid van Genua Maandagaand die kusgebied onder die begraafplaas versper het om te verseker dat die kiste nie na die see dryf nie..
Dinsdag na die opmeting van die webwerf, amptenare het gesê dat hulle sal voortgaan met die herstel van die kiste en lyke.