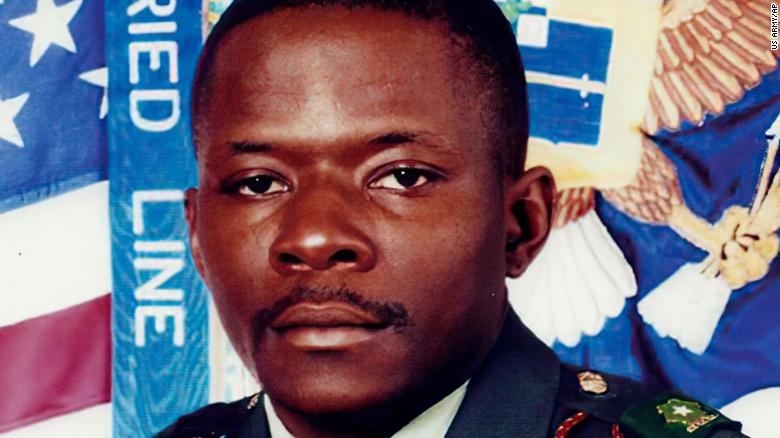 A fallen US Army sergeant is poised to become the first Black service member to be awarded the Medal of Honor for actions in Iraq or Afghanistan.
Cashe
, 35,
was on patrol on October
17, 2005,
in Samarra
, イラク,
when a roadside bomb detonated near the Bradley fighting vehicle he was in
.
The Florida native suffered fatal burns while rescuing soldiers from the burning vehicle
.
The Army said he helped remove all six soldiers from the vehicle and the body of an Iraqi interpreter who was killed by the IED
.
Cashe died from his injuries on November
8, 2005,
at a military hospital in San Antonio
, テキサス.
The bipartisan measure to waive the five-year limit was sponsored by Florida Democratic Rep
.
Stephanie Murphy
,
who represents Cashe's home district
,
and Republican Reps
.
Michael Waltz of Florida and Dan Crenshaw of Texas
.
"
The story of Alwyn's heroism has inspired so many people and I cannot wait for the day that his family will receive the nation's highest award for combat valor on his behalf
,"
Murphy said in a statement
.
"
America can never fully repay the ultimate debt paid by our heroes like Alwyn Cashe
—
but what we can do is honor them for their sacrifices
.
This is a monumental accomplishment for Alwyn's family
,
who have waited
15
years for this moment
,"
Waltz said in the statement
.
The president has the sole authority to award the Medal of Honor
,
but the move has had support from the Pentagon
.
8月に,
then-Secretary of Defense Mark Esper
sent a letter to the lawmakers saying that Cashe's actions
"
merit the award of the Medal of Honor.
" 手紙の中で,
he said he would recommend the honor once the time limit was lifted
.