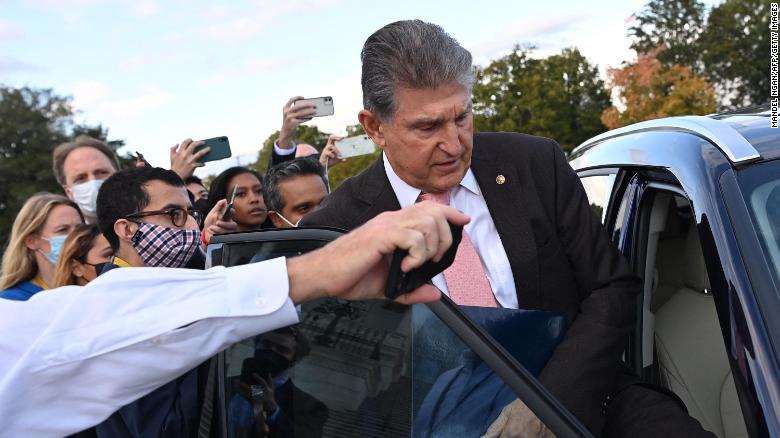 When Joe Manchin stepped to the podium in the US Capitol on Monday afternoon, the hope among Democrats was that he was going to announce that he supported the $ 1.75 trillion social safety net bill — a moment that would virtually ensure passage of the bulk of President Joe Biden's first-term domestic agenda.
After all, why else would Manchin call a news conference and tell reporters that he was going to "
clear up a lot of things
"?
Well, not that, as it turns out.
What the West Virginia Democrat announced was that liberals' attempts to secure his vote for the safety net bill in exchange for their backing of the $ 1.2 trillion "hard" infrastructure bill aren't working — and won't work.
"It is time to vote on the (bipartisan infrastructure) bill, up or down," said Manchin. "Holding this bill hostage is not going to work in getting my support
for the reconciliation bill."
Ultimately, Manchin didn't want to get jammed into supporting something he was far from ready to endorse, CNN's Manu Raju reported after talking to a source familiar with the senator's thinking.
"One thing that Manchin's statement makes clear is it's going to take time — potentially a lot more time — to win his support, if that's even possible."
It's hard to overstate how big a setback Manchin's statement represents for Biden, who is attending a climate change conference in Scotland.
At the start of the day Monday, the general consensus among Democrats was that a deal had been reached on at least a framework for the social safety net legislation.
And that reality appeared to be softening concerns among liberals that voting for the "hard" infrastructure bill without the broader bill would cost them the only leverage they have with Manchin and Democratic Sen. Kyrsten Sinema of Arizona.
Now? Manchin's insistence that the House (read: liberals in the House) pass the infrastructure bill without any assurances on how he will ultimately vote on the safety net measure will re-stoke all of the doubts among progressives about him walking away from the broader deal once he gets what he wants.
And Manchin's lecture-y "it's time to pass a bill and quit playing games" is just going to piss the left off (even more than they already were).
The Manchin announcement is pure bad news for the Biden White House, as it may well put them back at square one when it comes to negotiating a way to get the President's domestic agenda through a Democratic-controlled Congress.
That it comes one day before Virginians choose their next governor — and with the GOP candidate carrying all the momentum in that race — makes what Manchin said even more problematic.
The Point: The Biden victory lap just crashed into a ditch on the side of the road.