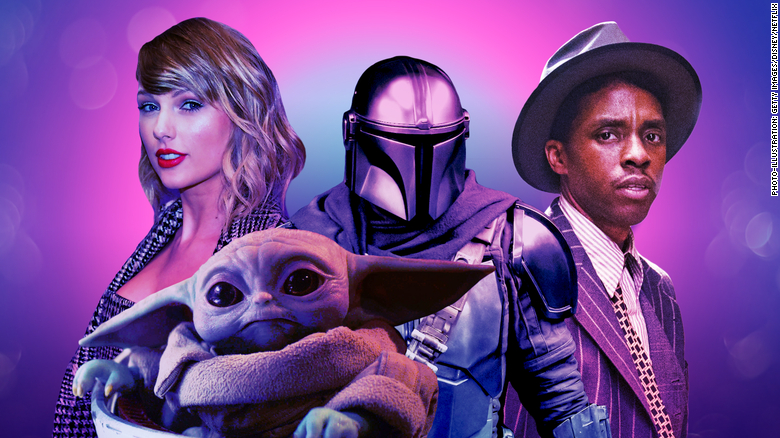 Yes, 2020 has been a gigantic dumpster fire on so many levels, but a spirit of gratitude may help pull us through just yet.
As we all struggle through the year that has been WTF (which, for the purposes of being family-friendly, we will say stands for "Worse Than Failure"), let's round up some of the reasons we can be thankful for pop culture:
Streaming, streaming, streaming: Because you can only walk the dog and "edit" your house but so many times (I'm really regretting donating that humidifier, but that's for another time). I, for one, am beyond grateful for the multitude of streaming content.
There is literally something for everyone.
Don't believe me?
A doc aimed at lovers of Rubik's Cube is the very definition of "niche."
Plus, there are new streaming services like HBO Max (owned by CNN's parent company) and NBC's Peacock so you are in no danger of running out of shows anytime soon.
So, get ready to "Rock and Roll All Nite."
The industry is determined to keep on keeping on in taking our minds off of our woes.
Thank you, Hollywood.
Say what you will about Taylor Swift, but she is a heck of a songwriter.
And where there is a good song, there is most always a good story. Thanks to her new film on Disney+, we will get the stories behind her latest album, "Folklore."
Taylor Swift, Aaron Dessner (The National), Jack Antonoff (Bleachers) and Justin Vernon (Bon Iver) created the album and come together to perform all 17 songs and spill the tea.
As a true crime buff, I found the HBO documentary about psychiatrist Dorothy Otnow Lewis and her career-long study of murderers to be right up my alley.
Are people born evil or do they become that way? You will have to watch to see what Lewis believes based on her work.
It's the Vince Guaraldi soundtrack that does it for me.
In fact, it just wouldn't be the holidays without "A Charlie Brown Christmas."
If you missed it on PBS and don't have Apple TV+, PBS will reair the holiday special on December 13. And, yes, I know it's Thanksgiving — Apple TV+ has got you there too as "A Charlie Brown Thanksgiving" is free to watch via its app through Friday.
Through it all, she has kept making music. Her latest album, "Plastic Hearts," drops Friday.
How is it album number 11 already for The Smashing Pumpkins?
It seems like only yesterday that the band burst on the scene to warm our alternative-rock hearts.
Count me in when "Cyr" drops Friday.
The singer took to the stage sporting a red suit jacket, black shirt, black trousers and a fully bandaged face to collect the trophy for favorite soul/R&B album for "After Hours."
The mummy look had some confused and others concerned, given that he had on the same outfit but with a bloody face and nose bandage in March when he performed on "Saturday Night Live."
So, perhaps that was it? Here's a tip, though: If you are trying to make a statement and folks aren't quite getting it, you haven't really made a statement.
If you are struggling to find something to be thankful for, grab hold of the fact that you are alive and well enough to be reading this newsletter.
You, being here, right now, is something that I am enormously grateful for.
Pop back here next Thursday for all the latest entertainment happenings that matter.