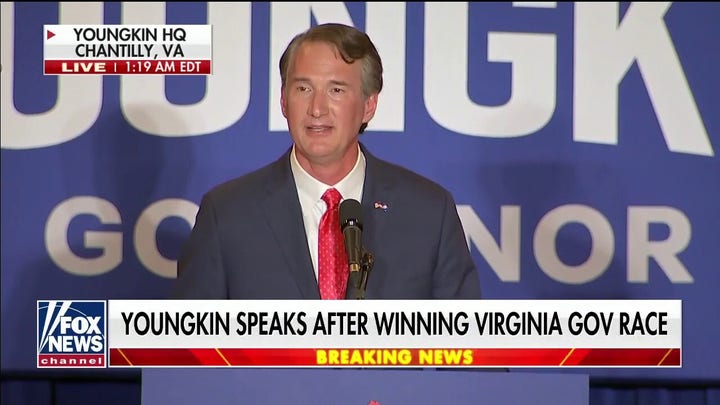 Are Democrats listening? 
Did they hear the thunderclap message sent in New Jersey – a state with one million more Democrats than Republicans – where incumbent Gov. Phil Murphy's race against a no-name GOP rival was too close to call the next morning? A race that was not even on the radar until just a couple of weeks ago, when Republican Jack Ciattarelli began to cut into Murphy's formidable lead? 
Do they understand why in Virginia long-shot candidate Glenn Youngkin upset Democrat Terry McAuliffe in a state where no Republican had won a statewide victory since 2009? 
RNC CHAIRWOMAN MCDANIEL: VIRGINIA REJECTS BIDEN, DEMOCRATS' FAILURES. THE RED WAVE HAS BEGUN
Sadly, in the face of these stunning results, Democrats will tell each other this: if only we had passed the $ 3.5 trillion Build Back Better bill, these contests would have been in the bag. They will decide it's all Joe Manchin's fault; they will blame the moderate West Virginia Democrat for blocking Joe Biden's progressive agenda which, they will insist, is what voters really want. 
It will be the rare Democrat that gets the message: we are on the wrong track. Our far-left agenda is alienating voters and, most important, we are not paying attention to the issues that Americans care most about. 
That's what the polls have been saying for weeks, but Democrats have ignored the polls. Now, that's what these elections say. Will Democrats ignore them, too? 
They will and here's why: progressive ideologues like Sens. Bernie Sanders, I-Vt., and Elizabeth Warren, D-Mass., are driving the Democrats' bus; they are so convinced they are right, so entrenched in their views, that they cannot pivot.  
The elites in charge of the Democratic Party no longer even pretend to listen to average Americans.