"It is surreal to hear sitting senators invoke Jan. 6 to justify breaking the rules to grab outcomes they have not earned," said McConnell, R-Ky. "It is jaw-dropping for colleagues to propose to commemorate that by breaking the Senate themselves."
SCHUMER TARGETS FILIBUSTER REFORM TO PASS VOTING RIGHTS LEGISLATION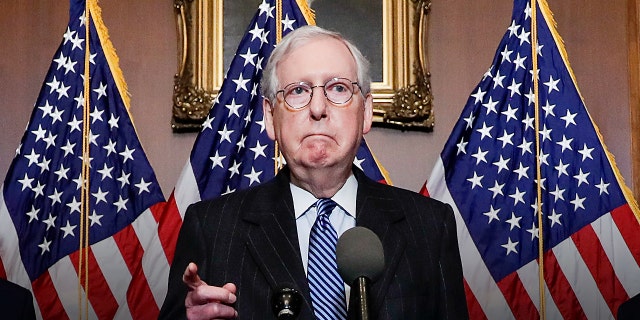 McConnell's condemnation comes one day after he accused Majority Leader Chuck Schumer, D-N.Y., of trying "to break the Senate" by gutting the filibuster.
In a Monday letter to his Democratic colleagues, Schumer said the upper chamber would debate rule changes in an attempt to carve a path for voting reform legislation. 
Schumer said the move was necessary to circumvent situations like the Jan. 6 attack that could jeopardize the legitimacy of the current democratic process. 
"We must adapt," he wrote. "The Senate was designed to evolve and has evolved many times in our history."
But McConnell, who told Politico Wednesday that he may support making changes to the 1887 Electoral Count Act, has taken issue with making any sweeping changes to Senate rules or broader election reform. 
SCHUMER TO USE JAN. 6 ANNIVERSARY TO MAKE PUSH FOR FEDERAL VOTING RIGHTS BILL