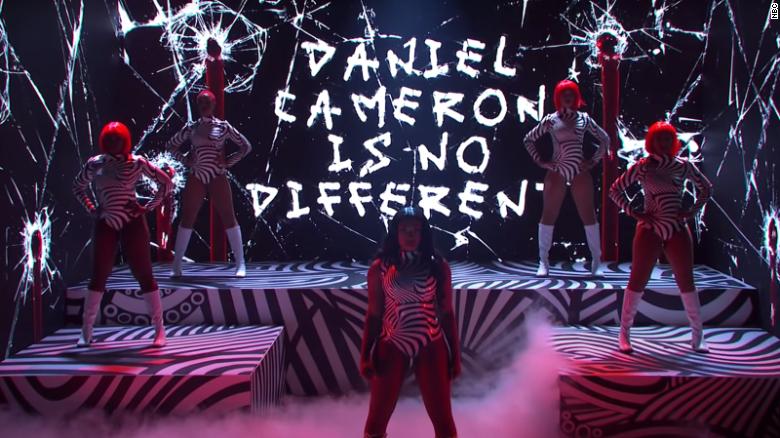 Musical guest Megan Thee Stallion used her "Saturday Night Live" performance to call out Kentucky Attorney General Daniel Cameron for his decision in the Breonna Taylor case.
The rapper and her dancers stood in front of a backdrop that said "protect Black women."
About halfway through her performance, the sounds of gunshots rang out and Megan Thee Stallion and her dancers paused as audio recording from Malcolm X's 1962 speech "Who Taught You to Hate Yourself?" played in the background.
"The most disrespected, unprotected, neglected person in America is the Black woman," clips from the recording sounded. "Who taught you to hate the texture of your hair, the color of your skin, the shape of your nose? Who taught you to hate yourself from the top of your head to the soles of your feet?"
Then there was an audio clip of activist Tamika Mallory saying, "Daniel Cameron is no different than the sellout Negroes that sold our people into slavery."
Cameron did not respond to CNN's request for comment.
Before finishing the song, Megan Thee Stallion also spoke out herself, demanding the protection of Black men and women.
"We need to protect our Black women and love our Black women. 'Cause at the end of the day, we need our Black women," she said. "We need to protect our Black men and stand up for our Black men, because at the end of the day, we're tired of seeing hashtags of our Black men."