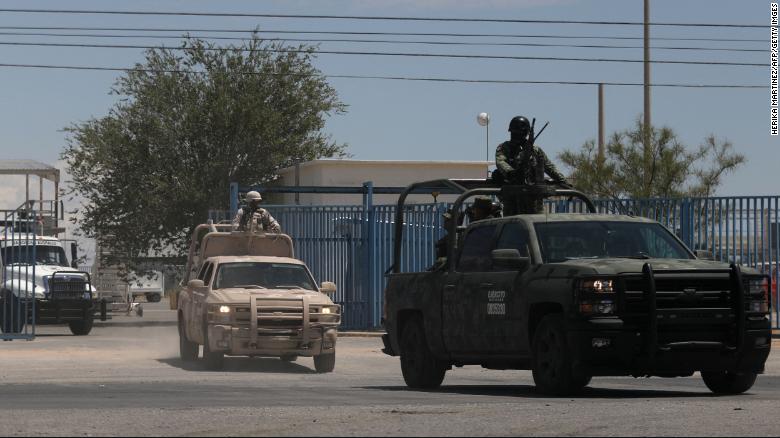 Hundreds of Mexican soldiers were sent to the border city of Juarez Friday after a prison face-off between members of two rival cartels caused a riot and shootouts that killed 11 gente, la mayoría de ellos civiles, las autoridades dijeron.
Los Chapos
,
members of the infamous Sinaloa Cartel formerly led by Joaquin
"El Chapo" Guzman,
and local group Los Mexicles clashed in a prison Thursday afternoon
,
Deputy Security Minister Ricardo Mejia said
.
A riot then broke out
,
leaving two shot to death and four injured with bullet wounds
,
Mejia said
,
speaking alongside Mexican President Andres Manuel Lopez Obrador at a regular news conference
. Otro 16
were injured in the fighting
, él dijo.
Officials did not say what caused the clash
.
Following the riot
,
the Mexicles rampaged in the city
, las autoridades dijeron,
killing nine civilians
.
Among them were four employees of a radio station
,
including one announcer
,
Mejia said
.
Across town
,
convenience stores were shot at and set on fire
.
FEMSA
,
the parent company of the Oxxo chain
,
said in a statement that one of its employees and a woman who was applying for a job were killed in the violence
.
Alrededor 1 soy. Mañana de viernes,
six alleged members of Mexicles were arrested by local police
,
with help from the Army and National Guard
,
Mejia said
.
By Friday afternoon
, algunos 300
Army soldiers were scheduled to arrive in town
, con otro 300
to follow
.
"(
Juarez
)
Mayor Cruz Perez has let us know that
(la ciudad)
is now in a state of calm
;
public order has been reestablished
,"
Mejia said
.
"
We hope it doesn't happen again
,
because innocent people were attacked
,"
Lopez Obrador said
.
Thursday's attacks follow clashes between cartels and the military in central Mexico
,
which led to taxis
,
buses and some
20
Oxxo stores being set ablaze
,
Lopez Obrador said
.
"
We should not and cannot get used to this type of event
,"
said retail group ANTAD
. "
Mexico does not deserve it.
"