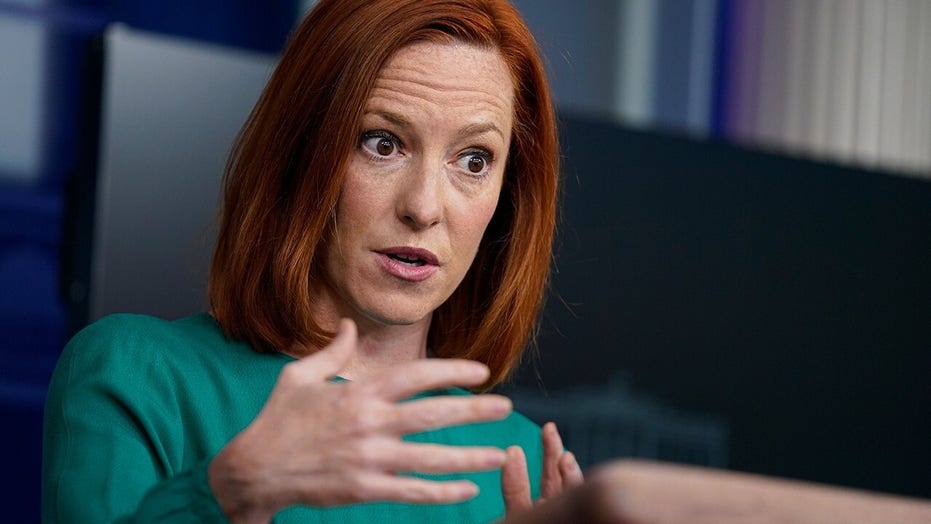 The previous strategy, meaning before Monday, was a mix of denial and excuse-making, but it wasn't working. How could it when thousands of people are getting shot and murdered, mostly in cities run by Demócratas?
Something had to give, and White House press secretary Jen Psaki tipped the new strategy when she concocted the notion that it's Republicans who actually support defunding the police. Her fatuous attempt to flip reality on its head relied on GOP resistance to another multitrillion-dollar Biden administration boondoggle. A boondoggle, por cierto, that has nothing to do with police or crime.
SU. TED CRUZ: DEMAS' 'DEFUND THE POLICE' – HERE'S THEIR DESPERATE PLOY TO ESCAPE BLAME FOR RISING CRIME RATES
sin embargo, desperate times call for desperate measures and so Psaki was making like Lady Macbeth in trying to wipe the blood off Dems' hands.
The effort won't wash, but the attempt is telling. Polling everywhere reflects growing public angst, but my guess is the lightning-bolt moment came with the first-place finish of Eric Adams in the first round of New York's Democratic mayoral primary.
HAGA CLIC AQUÍ PARA OBTENER EL BOLETÍN DE OPINIONES
Adams, a retired NYPD captain and the Brooklyn borough president, was the lone candidate to make combating crime his top issue, as did voters. It's a beautiful thing when politics works like it's supposed to.
The other seven Dems acted like the Seven Dwarfs in not pivoting to the issue even as the body count climbed, with children and tourists among the casualties. The others continued to parrot the left's talking points about climate change, systemic racism and free everything for everybody except the wealthy, who must finally pay their fair share. Paja, paja, paja.
We can only imagine the way ­Adams' victory was received in Dems' back rooms: Holy s–t, did you see what just happened in New York? Rápido, Di algo!
So the party that featured police haters and people who see racism behind every badge last year is suddenly sweating bullets. That's how fast the momentum is shifting.
Give Adams credit – he understood immediately what was happening. On election night, he crowed that "I am the face of the Democratic Party" and warned that if leaders fail "to recognize what we did here in New York City, they're going to have a problem in the midterm elections and they're going to have a problem in the presidential election."
His argument cuts to the core of voting blocs. Blue cities and states are blue primarily because blacks and Latinos vote overwhelmingly for Dems.
Yet here, those same voters chose Adams in big numbers and cited growing crime in their neighborhoods as the reason. They don't want less policing – they want more and better policing.
As with all bad ideas from the left, the propaganda media trumpets the nonsense.