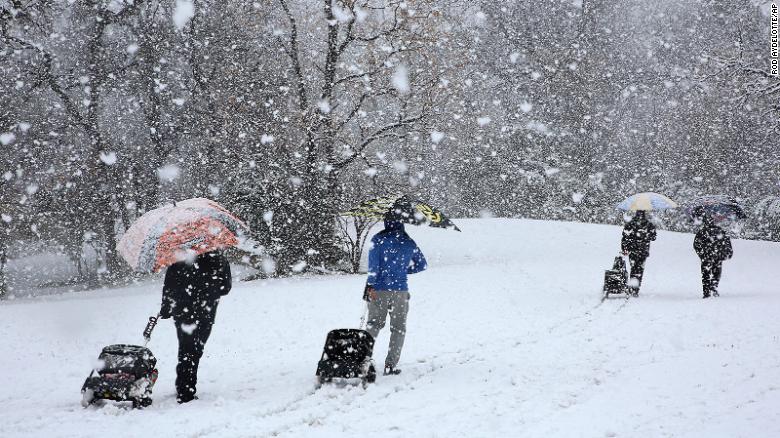 Più di 150,000 customers are without power across Texas and Louisiana as a powerful snowstorm moves through the southern states early Monday morning.
Poor road conditions are possible across Texas and Louisiana during the Monday morning commute
,
including dark street lights and signals due to the widespread outages
.
Areas of east and northeast Texas
,
including Lamesa which received
9
inches of snowfall
,
have already seen poor visibility due to fog
, secondo
tweets from NWS Midland

.
The Louisiana Department of Transportation and Development has encouraged people to travel only if absolutely necessary
.
Crews have been salting roadways and warned that closures are possible as snowfall continues
.
The snow is expected to move out of Texas into southern Arkansas
,
through north and central Louisiana
,
and parts of Mississippi and Alabama through Monday
,
according to CNN Meteorologist Gene Norman
.
Accumulation will vary
,
but Norman said it will mainly be between one to three inches
.
The National Weather Service says a winter storm warning remains in effect until about
6 a.m.
local time Monday
.
Snowfall reports show
some areas in Texas got up to
9 pollici,
including Moshein near Waco in the central part of the state
,
and Lamesa and Denver City in the west Texas
.
Waco received
4.4 pollici —
the most snow it's seen since
1982 — secondo
a tweet from NWS Fort Worth

.
That's the tenth highest 24-hour snowfall event on record for the area
,
beating the daily record of
1.1
inches that was set in
1973,
the tweet said
.
NWS Austin/San Antonio said on Twitter
that the area saw up to six inches of snow Sunday
. "
The last time that happened was Christmas day
2004,
when our Coastal Plains counties had a very white Christmas
,"
the tweet said
.
Jackson, Mississippi
,
could see about four years
'
worth of snow accumulation come Monday morning
,
CNN Meteorologist Pedram Javaheri said
.
The average snowfall for the area is only
1
inch a year and
3 per 4
inches are forecast to fall in this storm
,
according to Javaheri
.
There have only been
11
occasions when accumulations have exceeded
4
inches of snow in a season in
126
years of record keeping
,
Javaheri added
,
meaning a weather event like this occurs once every
12
years on average
.