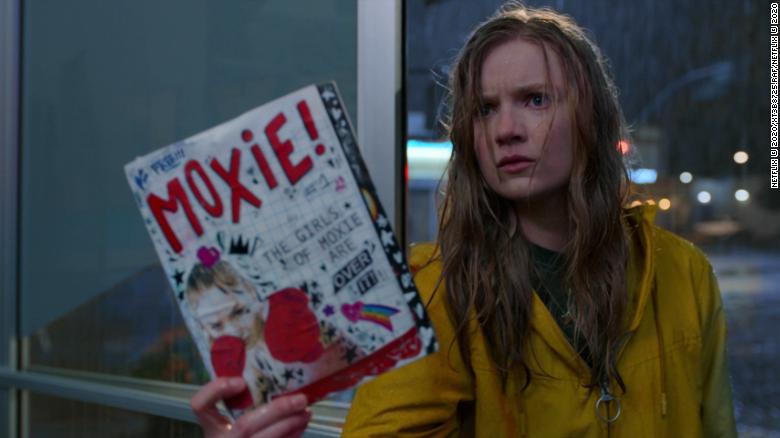 Depending on one's point of view, we are either living through a golden age of angst-ridden teen dramas, or a glut that risks rendering them indistinguishable from each other.
On the heels of Netflix's
"13 Reasons Why"
and HBO's
"Euphoria"
— both extraordinarily bleak, raw looks at modern teenage life — comes two more similarly themed projects: "Moxie," a Netflix movie directed by Amy Poehler (who co-stars as the main character's mom); and "Genera+ion," an HBO Max series created by 19-year-old Zelda Barnz working with her fathers, the married producing team Daniel Barnz and Ben Barnz.
"Moxie" is actually based on a book, about a quiet student, Vivian (Hadley Robinson), who finally reacts to injustices at her school by anonymously publishing a pamphlet detailing outrages on behalf of the female student body.
Produced by "Girls'" Lena Dunham, "Genera+ion" focuses on a group of kids framed by the device of an unexpected crisis in a mall bathroom.
Like the other shows, there are common threads to these latest efforts. A frankness about sexuality and drug use, inclusiveness in the casting, and a view of parents as mostly ineffectual and out of touch, at least initially — not quite Charlie Brown cartoon territory, but not too far away either.
In most of the shows, the teens are played by actors in their 20s — mostly due to convenience (working with minors creates certain logistical restrictions), but a decision that subtly affects the depictions of sex, since the minors are actually adults.
In the case of "Genera+ion," for example, Justice Smith plays Chester, an out and proud water-polo star who keeps running afoul of the school's dress code, continuously flirts with his adult guidance counselor (Nathan Stewart-Jarrett).
"I'm, like, a lot," Chester says early on.
Most of these shows are "a lot," which is of course the point — conjuring old-fashioned soap operas around younger, more diverse characters, building on what was considered edgy back when "Beverly Hills, 90210" or "Dawson's Creek" were all the rage.
The continuum rolled on, with controversial movies like director Larry Clark's "Kids" and series like "Skins," each seemingly pushing the parameters of teen content a little further, as happens with all genres.
What's changed are both the platforms with the advent of streaming and the relaxation of content restrictions. In "Genera+ion," sending a naked photo is not only a dramatic device, but the image of the body part can be shown in vivid color.
In that sense, these programs have more in common with independent films than the series of old — the difference being that instead of telling coming-of-age stories with a beginning, middle and end, as with acclaimed recent examples like "Lady Bird" and "Booksmart," the narrative is prolonged in serialized form, upping the ante on situations characters face along the way.
Like those films, "Moxie" — described as a "coming of rage" story, because of the protagonist's awakening to her school's injustices — is directed by an actor and possesses some of that irreverent flavor. Late twists ratchet up the drama, but also make the movie feel as it has rushed toward a resolution.
While Netflix and HBO have found a fertile audience for teen sagas, every week seems to bring a new independent movie about that demographic, the latest being "Sophie Jones," which looks at a 16-year-old girl dealing with grief — in part through various sexual encounters — after her mother's death.
When "Euphoria" premiered, the Washington Post's Bethonie Butler noted that the audience for such shows isn't confined to teens. Referring to another pioneer among high-school-set series, "Degrassi,"
Butler wrote
that while the ad line for that show was "It goes there," "If 'Degrassi' went there because it had to, 'Euphoria' goes there (and there and, OMG, there) because it can."
In the case of "13 Reasons Why," "going there" led to excess and a creative slide. Time will tell how well "Euphoria" or "Genera+ion" deal with those challenges, but as these stories become edgier, standing out from the crowd doesn't get any easier. The one certainty, at this point, is that each generation will have its chance to add to, if not reinvent, the teen-troubles genre.
"Moxie" premieres March 3 on Netflix. "Genera+ion" premieres March 11 on HBO Max, which, like CNN, is a unit of WarnerMedia.