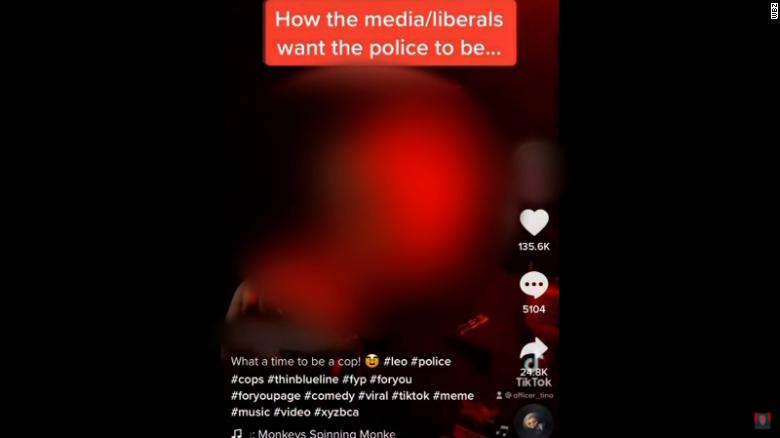 'N Polisiebeampte in New Hampshire is met administratiewe verlof geplaas nadat John Bryfonski, hoof van Bedford, daarvan bewus geword het "ten minste een" Die TikTok-video het die beampte in uniform en blykbaar aan diens geskep, the chief said in a Monday statement.
According to CNN affiliate WBZ
,
which obtained a copy of the video before it was made private
,
the TikTok post had the caption
"
How the media/liberals want the police to be
,"
and shows the officer
, wat nie geïdentifiseer is nie,
pretending to respond to violent calls
.
In part of the video obtained by WBZ
, die beampte kan hoor sê, "
You look like you're going to go shoot those people
—
can you just not
? O,
he's pointing at me
.
I'm out
"
and in another
, "Haai,
stop stabbing
, stop!
Stop stabbing that person
!" gevolg deur "
Dispatch they didn't stop
,
so just show me clear.
"
The TikTok post also resulted in a YouTube video that was created to call attention to the post
,
the chief said in the statement
.
"
The Bedford Police Department does not allow its officers to use social media while on duty
,
in uniform and using department equipment and vehicles to make divisive or political statements
,"
the chief's statement said
. "
Our department has a robust social media policy and employment policies governing conduct on and off duty.
"
Bedford is a town located about in the outskirts of Manchester
, New Hampshire.
The department initiated an internal investigation and the officer who owns the TikTok account was placed on administrative leave pending the outcome of that review
, lui die verklaring.
"
If other Bedford Police officers were involved in any inappropriate videos or postings
,
additional measures will be taken consistent with the department's policies and procedures
,"
Bryfonski said
. "
Any actions that sow doubt in our department's mission will be addressed in a timely and appropriate manner.
"
Bryfonski added that
"
the department has also initiated a review of its social media policy to ensure it is completely in line with modern best practices.
"