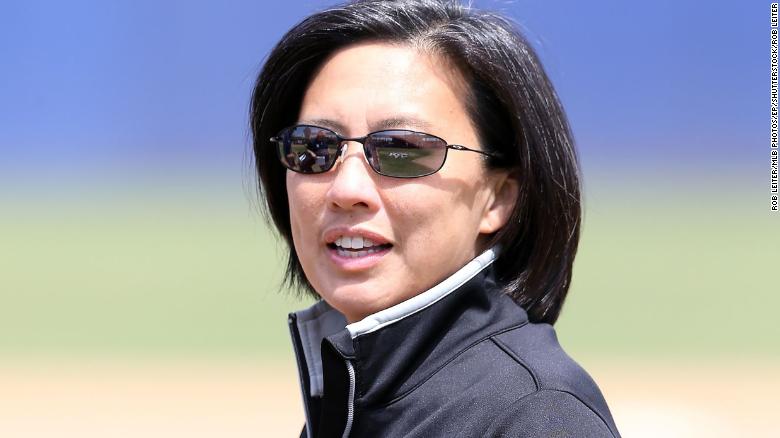 As baseball legend has it, in 1950, 13-year-old Kathryn "Tubby" Johnston asked her mother to cut her hair so she could don the uniform of the King's Dairy Little League team and play ball. After playing several games as a boy, by mid-season she let her coach and teammates know about her secret, but her prowess kept her safe at first base despite the jeers from opposing players and their parents.
Johnston came to mind when I saw the Miami Marlins tweet announcing "
OUR gm
," accompanied by a change to the team's profile picture: a close-up shot of Kim Ng, the team's newly announced general manager — the first woman to take such a position in Major League Baseball. There were, of course, a handful of the usual garbage responses that often permeate Twitter when the subject is women and…most anything.
But the overwhelming majority greeted the news with a sense of celebration and a resounding chorus of "It's about time!" that positions Ng as a long overdue pathbreaker, a baseball lifer who has worked as an executive in the MLB for over three decades, serving as assistant director of baseball ops for the Chicago White Sox (1990-1996), assistant general manager for both the Yankees (1998-2001) and the Dodgers (2002-2011 and senior vice president of baseball ops in the MLB's Commissioners Office since 2011.
As the highest-ranking woman in baseball history, Ng now has more than a few firsts connected to her name, including that of the first Asian-American GM.
This past summer, in the midst of baseball's revival in the moment of Covid-19, Alyssa Nakken, the first full-time female coach in MLB history,
also became
the first woman to coach on the field. Her San Francisco Giants' jersey was sent to the Hall of Fame after the game in recognition of the historic moment.
Who will be the second? No one has a good answer.
It can take a long time for historic firsts to turn into real visibility, especially among the ranks of coaches, referees, officials, arena management and front office. Jackie Robinson made his historic at bat in 1947; the Dodgers didn't field a majority black team until 1954. And even successful mechanisms designed to combat the problem for athletes have, unfortunately, not yielded similar results for executives and coaches.
That's why the stories that surround questions of "why did this take so long" — stories that make the question rhetorical, at best — should not just focus on the pathbreaker, the one who ascends to the position of the person, but also whether or not others follow. Yes, the appointment of Ng by none other than Marlins CEO Derek Jeter is historic, but how do we have more of this?
"Not all data is created equally," she told me, noting that TIDES changed its A+ rating of the MLS to a C- on the issue of gender hiring last month, including an F for gender hiring of MLS team vice presidents. "There are ways to look at the administration and governance of sports teams and associations — actual power brokerage — that needs to be analyzed and assessed and rigorously designed." Qualitative data, says Elsey — the documenting of people's actual work experiences — is not used nearly enough. "Data can cover up just as much as it can reveal," she warned.
Kim Ng isn't a new hire, a new recruit, in baseball; she isn't part of heightened efforts in recent years to create a more inclusive culture and environment. She's spent well over half her life in the industry, coming up through different channels than those of so many of her colleagues because she has never played the game, which remains part of the old school qualifications that predate the Moneyball era but still culturally persist.
The answer, then, to "why did it take so long," should, amidst the well-deserved celebration of her hire, continue to rock us to our core.
We know why it took so long. And the answer isn't good.